The Tunnel Movie
(2012)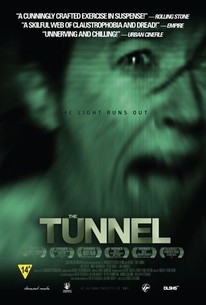 Movie Info
An investigation into a government cover-up leads to a network of abandoned train tunnels deep beneath the heart of Sydney. As a journalist and her crew hunt for the story it quickly becomes clear the story is hunting them.
Critic Reviews for The Tunnel Movie
Audience Reviews for The Tunnel Movie
½
"Okay, okay, now look, I can almost make out what we're doing here, so yer gonna have to shake the camera some more till I can't. Really shake it. And you, I need you to look down that dark hallway and ask the question "did you hear that" again, just a coupla more times. And you, I need more hysterical screaming again in places where nothing is going on to give the illusion that something might happen." --- the director of this stuff that's literally right outta the Blair Witch cold cereal box.
Kevin M. Williams
Super Reviewer
½
Decent things are done in The Tunnel for such a petty budget. It's a little bit Blair Witch Project and a whole lot Death Line. The concept of the film being a mockumentary rather than the standard "Found Footage" of Paranormal Activity 2, Cloverfield, The Last Exorcism etc. was an intriguing notion. It means that the underground shots (which are the film's focus) are interspersed with interviews and non-chronological footage. Though this struck me as a pleasant little flair of originality, it did sort of ruin the suspense that The Tunnel worked so hard on building up, continuously brining us back out of this terrifying world they created. I did come across more than a few people asking if there was any more information about the events of the film. They had indeed assumed that the whole thing was an actual documentary. The world is full of pretty stupid people, but kudos still goes to Enzo Tedeschi and Julian Harvey for an apparently believable script. Sticking to the tried and true method of "less is more", The Tunnel barely even gives us glimpses of what's going on. Though I suppose this leaves them with room to move in the future, as well as giving them a more believable angle and, let's be honest, less money spent on SFX. I did still end up feeling ultimately cheated by it all however. Then again, how can you be cheated by a movie you can own for free? While I'm on that, major damn props to Distracted Media and the crew behind The Tunnel for releasing it for free, and making it well known! It was a relatively inexpensive film to make, certainly, but it speaks for the team that they were happy to release their film to the public, caution to the wind, and hope it was just enjoyed. Which, all in all, it was. I have a bit of a soft spot for Australian Horror, and for POV Horror, so it hit the right buttons for me and gets some points off the bat, I'll admit, but it's still a solid little piece of film. And let's face it, you can own it FOR FREE! What's your excuse or not giving it a chance? Make up yo' own damn minds, shit... -Gimly
A weirdly terrible movie that tries to offer alot but delievers very little. Avoid if your not wanting to waste a couple of hours of your life.
Film Crazy
Super Reviewer
The Tunnel Movie Quotes
There are no approved quotes yet for this movie.