The Unnamable II
(1992)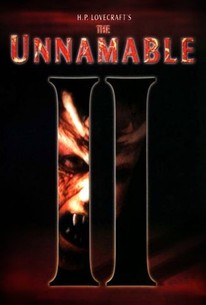 AUDIENCE SCORE
Critic Consensus: No consensus yet.
Movie Info
The demonic, part-human creature Alyda returns to Earth and wreaks more bloody havoc in this horror sequel, based upon a story by H.P. Lovecraft. It's up to two college students who survived the demon's first attack to find a way to stop her.
Critic Reviews for The Unnamable II
There are no critic reviews yet for The Unnamable II. Keep checking Rotten Tomatoes for updates!
Audience Reviews for The Unnamable II
½
After enduring the fiasco that was The Unnamable last year, I wasn't exactly doing cartwheels at the prospect of a sequel. Directly continuing from the events of its predecessor, it garners kudos for at least attempting to translate H.P. Lovecraft's penchant for Chthulu, Arabic annotations and quantum physics. However, this is still an overcooked, cockamamie misfire that attempts embarrassingly forced, fish-out-of-water humor around Maria Ford's nubile, unclad body. For chauvinistic males, they can salivate over her T-&-A quotient while she is too monosyllabic to object to them ogling her assets. It drudges through a Quatermass hypothesis of residing in two planes of existence for nonsensical, pseudo-intellectual drivel ("It is my daughter but it is not my daughter and that which is not my daughter..."). Horror fans will be lulled into a slumber since most of the runtime is allocated to verbose talkiness about 17th century curses. Mary Kinsey Stephenson is the poor man's Herbert West once again with feeble efforts at one-liners ("Fancy seeing you here" when he resurfaces from a grave site). He is the snobbish, charmless equivalent of Niles from Frasier. The fright set pieces are substandard at the best (the creature's zipline flying effects) and horridly laughable at the worst (the library stacks chase is described like Minos' labyrinth - "People get lost in them during the day"). Somehow, the filmmakers cajole the prestige of David Warner and John Rhys-Davies into supporting roles but their presences are short-lived (mercifully for their reputations). Rather than the static compositions of the first film, the camera actually slides occasionally. Therefore, the production value might be higher but the overall quality hasn't transcended a Syfy Original.
Cory Taylor
Super Reviewer
I enjoyed this more than the first, as the plot was actually more like a Lovecraft story in it's structure and content. It also takes itself a bit less seriously, which makes for better viewing entertainment. It's still fairly average, though enjoyable enough if you're not looking for a masterpiece of horror cinema. I love the realisation of Randolph Carter though, a proper Lovecraftian hero who fights with knowledge rather than weapons and is fond of making dramatic pronouncements.
The Unnamable II Quotes
There are no approved quotes yet for this movie.