The War Game
(1966)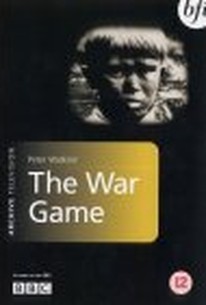 Movie Info
Peter Watkins' The War Game, which was filmed in handheld documentary fashion, speculates on the aftereffects of a nuclear war. Some of the images are almost impossible to look at; they truly illustrate the theory that, in the wake of such a holocaust, the living will envy the dead. The most heartwrenching scene is the simplest. Asked what he wants to be when he grows up, a sullen young boy, physically unhurt but with obviously deep emotional scars, mutters "I don't want to be nothin'." Filmed for BBC television, The War Game was rejected by that august concern as being too graphic. The 47-minute film was released to theaters, making it eligible for the Best Documentary Academy Award, which it won in 1966. ~ Hal Erickson, Rovi
Cast
Critic Reviews for The War Game
Audience Reviews for The War Game
Peter Watkin's "documentary" film is a horrifying look at the effects of what a Soviet nuclear attack would look like in the United Kingdom. It's a wonderful film that shows deep rooted concerns of people during the height of the Cold War.
Joseph Boomhower
Super Reviewer
½
"The War Game" is an intense demonstration of what a nuclear attack on England would look like, extrapolating from the bombings of Hiroshima, Nagasaki and Dresden to name a few. While this is decades ahead of similar movies like "Threads" and "The Day After," "The War Game" also feels dated, partially due to its predicting nuclear war by 1980 because of out of control nuclear proliferation which does remain a very real threat in this day and age. And unlike Peter Watkins' other docufictions, this does not really have a story, leading it to sound like little more than a polemic at times. On the one hand, the movie is concerned with preparations for nuclear war while it also ably demonstrates that there is really no way to conceivably prepare for one. In this confused way, Watkins points out how little the people of England at the time knew about nuclear weapons. But if I remember correctly from a biography of Bertrand Russell, there was already an anti-nuclear movement well under way by then.
"The War Game" is a grim, fearless imagining of a nuclear attack's devastating effect on England. This 48-minute film was originally made for the BBC, yet rated so shocking that it wasn't shown on British television until 20 years later (despite winning the 1966 Oscar for Best Documentary Feature). As a detached narrator matter-of-factly recounts the action, director Peter Watkins dramatizes a contemporary bombing of England and the subsequent death, destruction, filth, disease, injuries, hunger, looting and depression. The dour images are still shocking today -- especially an unflinching scene where the jaded police executes some rioters just because it's the quickest solution. There are no recurring characters beyond a few "man on the street" subjects who naively respond to interview questions. The people are ill-informed about the situation, and it's emphasized that any missile strike would arrive so fast that preparations are useless. Here are five minutes -- grab your children and wrap up your life as best you can. The film is obviously low-budget but, due to its brief length and emphasis on the human toll (mostly captured in tight, intimate shots), the need for expensive sets and props is minimal. Note: If released today, "The War Game"'s classification as a "documentary" presumably would be rejected. There is seemingly no real-life footage at all and, rather than aim for an Orson Welles-style illusion of an actual disaster, the narration repeatedly reminds us that these events are mere possibilities. Really, this is no more a documentary than other prominent Watkins works such as "The Battle of Culloden," "Privilege" and "Punishment Park" -- all fictions presented in a similar newsreel style.
Eric Broome
Super Reviewer
The War Game Quotes
There are no approved quotes yet for this movie.