The Whisperer In Darkness
(2011)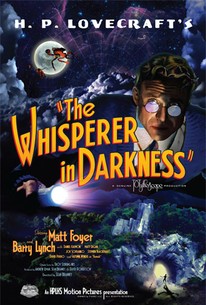 The Whisperer In Darkness Photos
Movie Info
A visionary screen adaptation of the classic weird tale by legendary horror writer HP Lovecraft. Following a series of floods in rural Vermont, the bodies of grotesque creatures are found floating in several rivers. The creatures match descriptions given in certain local myths and legends. University Folklorist Albert Wilmarth (Matt Foyer) is initially dismissive of the stories, until he starts to receive a series of increasingly disturbing letters from Vermont farmer, that hint at a horrifying truth. He travels to Vermont to investigate further, and uncovers a conspiracy that extends out into the furthest reaches of space and the darkest pits of hell.
Critic Reviews for The Whisperer In Darkness
Audience Reviews for The Whisperer In Darkness
If you are a Lovecraft fan and haven't seen this yet, please slap yourself, then see it as soon as possible. Horror fans won't be let down either. Done in the fashion of an old Universal monster movie with style to spare.
Anthony Valletta
Super Reviewer
Yet another very satisfying, respectful and entertaining adaption of one of HP Lovecraft's most accomplished stories by the H.P. Lovecraft Historical Society. The movie embraces the classic sci-fi aesthetic from the 40s and 50s with remarkable results for such a small budgeted flick thanks to a smart script and excellent use of atmosphere and pacing. Some special effects are clunky which helps the movie at times thanks to inspired cinematography but also has some awkward results towards the end on the CGI animated beasts which just doesn't make much sense. Also, the soundtrack is absolutly atrocious and overbearing, distracting the viewer way too much from the narrative and without any emotional resonance. All in all, a fantastic effort after the already great Call of Cthulhu adaptation by the HPLHS. Bring more of these!
Francisco Godinho
Super Reviewer
The Whisperer In Darkness Quotes
There are no approved quotes yet for this movie.