The Willow Tree (Beed-e majnoon)
(2007)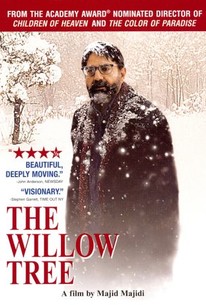 The Willow Tree (Beed-e majnoon) Photos
Movie Info
After years of refusing to let his handicap get in the way of his success, a blind professor whose vision is restored experiences a dramatic shift in personality in this drama from director Majid Majidi. A renown professor of poetry at a Tehran university, Youssef (Parvis Parastui) has been blessed with a loving wife, a beautiful daughter, and a picturesque suburban home. Despite being blinded in a childhood accident, Youssef has successfully overcome his disability to live a happy and rewarding life. When the threat of a terminal disease finds Youssef hastily departing to Paris to seek the care of a highly-regarded specialist, the subsequent relief of discovering that he is not in danger after all is made even more joyous by the revelation that he is now eligible for the cornea transplant that promises to restore his sight. Soon returning to Iran and experiencing the world around him in a whole new light, Youssef begins to resent the years that he spent in darkness and, after forsaking the love of his devoted wife for the beauty of a stranger he barely knows, finds his bitterness evolving into aggression that threatens to destroy both himself and those who love him most.
News & Interviews for The Willow Tree (Beed-e majnoon)
Critic Reviews for The Willow Tree (Beed-e majnoon)
Audience Reviews for The Willow Tree (Beed-e majnoon)
It needs a patiece to enjoy and watch this sort of movie.
½
The Willow tree can be described as a companion piece to Majidi's, Color of Paradise, where the father saw his blind son as a burden and not as a blessing. Here, the characters of the father and the son are embodied in a single person: Yusef. Who after 38 years of being blind regains his sight. What he sees, however, is quite different to what he "saw" as a blind man, and not necessarily more beautiful or rewarding. The world around him is totally different and he struggles even more. He is not able to cope with what he sees and his image of his wife and the family and his mother all confuse him. Majidi takes the viewer to a higher, more spiritual world and in doing so creates another masterpiece. His movies are visually stunning and have such a profound effect on the viewer. As in all Majidi films, there are scenes which will stay with you long even when the movie is over.It does for me. A superb movie. Love it..
Daisy Maduro
Super Reviewer
There's more than meets the eye in this gem from Iran. A fascinating story that is executed both beautifully and brilliantly. Parviz Parastui gives an emotionally charged, yet subtle and masterful performance, which polishes this film. Like "The Diving Bell and the Butterfly", the viewer will have their perception of beauty and reality challenged, while taking away a sort of sad inspiration from this film. Perspective dictates happiness and beauty is in the eye of the beholder.
Richard Franzen
Super Reviewer
The Willow Tree (Beed-e majnoon) Quotes
There are no approved quotes yet for this movie.