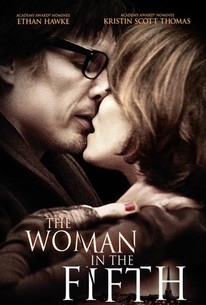 The Woman in the Fifth
2011, Mystery & thriller, 1h 23m
59 Reviews
2,500+ Ratings
Where to watch
Free
Rent/buy
Rent/buy
Rate And Review
The Woman in the Fifth Photos
Movie Info
In Paris, an American writer (Ethan Hawke) falls under the sexual spell of a mysterious widow (Kristin Scott Thomas) who sets strange rules to their twice-weekly meetings.
Rating: R (Some Sexual Content|Language|Violent Images)

Genre: Mystery & thriller

Original Language: English

Director: Pawel Pawlikowski

Writer: Pawel Pawlikowski, Douglas Kennedy

Release Date (Theaters): limited

Release Date (Streaming):

Box Office (Gross USA): $107.9K

Runtime:

Distributor: ATO Pictures

Production Co: Haut et Court, UK Film Council, Film4
News & Interviews for The Woman in the Fifth
Audience Reviews for The Woman in the Fifth
The film isn't bad but it isn't great either. It feels like the director is trying to copy the style of Roman Polanski here. I did like that the film is in both English and French. I was surprised by the short running time. I thought it could have been 20 minutes longer. I also felt that the pacing was off. In a weird way the film kind of reminded me of the movie, Secret Window. I know audiences might be confused by the ending of the film. Ethan Hawke was ok, but I felt like I have seen him play this kind of role before. He didn't bring anything new here. Maybe another actor in that role could have done more with it. Kristin Scott Thomas is great here. She is kind of like the femme fatale. She does have a good on screen chemistry with Hawke.

Solid performances by Hawke and Thomas cannot save this pretentious pseudo-arthouse mess of a film that takes an rugged emotional state of a man and ponders on and on through a grim urban setting that reflects the innter state of the protagonist. The cinematography and imagery is all good but the pacing and structure is all over the place and far to artsy for my taste.

I have a dilemma in reviewing the Ethan Hawke vehicle "Woman In The Fifth"; for if I even begin to describe what takes place here I run the risk of possibly revealing something that may well be better left for another viewer to discover (or decipher) on their own. Even saying that is perhaps revealing too much, as suffice it to say, everything may not be what it appears to be with the film, and as it rests its hat on said ambiguity I cannot comment further. What I will say is that this film is very atmospheric, filmed in a style where the foreground is always in focus, while the background is often fuzzy. This point of view is overused in my opinion, though it does give you the sense that all is not quite right with what you are viewing. For me, the first 2/3 of the film are interesting and solid enough; it's just in the last third that the film somehow managed to be far too slow and yet felt rushed at the same time - quite a feat! It's as if director Pawel Pawilowski realized that the script had some serious holes and couldn't decide how best to camouflage - either by getting all artsy (hoping the audience would forget the holes) or racing past the potholes hoping the audience wouldn't feel the bounce. Now, I'm going to (kind of) reveal a spoiler here - the ending is totally predicable and hardly surprising, and for me at least, not the big payoff that Pawilowski was hoping for. For me I felt jerked around, even though the resolution was exactly what I expected it to be... it just felt too pat and, to be frank, amateurish. Too bad, for the story could have been compelling in surer hands.

<B><I>THE WOMAN IN THE FIFTH </I> (2011) </B>French-British-Polish independent, French/English language, English subtitles WRITTEN BY: Douglas Kennedy, Pawel Pawlikowski DIRECTED BY: Pawel Pawlikowski FEATURING: Ethan Hawke, Kristin Scott Thomas, Delphine Chuillot GENRE: <B>Psychological Thriller, Puzzler</B> RATING: 8 PINTS OF BLOOD PLOT: <B> When a troubled writer meets a mysterious mentor, reality bends, leaving him in a scramble for his sanity.</B> COMMENTS: The Woman In The Fifth is a complex, puzzling atmosphere piece which follows a bizarre series of events that transpire during a man's visit to Paris. The story just keeps getting weirder, right up to its strange, twist ending. Carefully composed, artfully gloomy photography and symbolic segue-ways which hint at divergences, and parallel states of being, add a moody, brooding dimension to this disturbing psychological thriller. Here's the basic setup. Freshly released from a stint in an insane asylum, professor/struggling author Tom Hicks (Hawke) lands in Paris to reunite with his estranged wife (Chuillot) and daughter. After after he breaks into his ex-wife's apartment, his spooked spouse calls the cops. Next, Hicks is robbed on a commuter train -of everything, and finds himself flat broke in Paris' seamy underbelly, the part where the the Morrocans live. Desperate, he must make a deal with shady a flophouse proprietor (Guesmi) who sets him up with a filthy room across from a crazy neighbor who won't turn his music down or flush the toilet. And how will Hicks pay for such lush accommodations? The proprietor has that angle figured out, too. He puts Hicks to work in a fortified control room in an underground crime warehouse. There, Hicks must lock himself in, and man a camera and remote controlled door. As a steady progression of sleazy and sinister people arrive at the subterranean entrance to be let in, bizarre bangs, scraping sounds, and screams fill the creepy corridor outside Hicks's control room. He finds that he himself is on camera. As soon as he makes a move to investigate the screams, a mysterious voice threatens him with death. Makes sense. OK. Back to work. In his spare time, Hicks attempts to write a second novel, stalks his estranged wife and daughter, and manages to entangle himself with his mobster employer's girlfriend (Kulig). As if all of this isn't bizarre enough Hicks's new writing mentor Margit (Thomas), an exotic older woman regularly seduces and pampers him. But then there is a murder, followed by a disappearance. Does his new muse knows more about it than she will tell Hicks? She, and everything surrounding her becomes a conundrum. As Hicks attempts to solve it, the line between fantasy and reality undulates. When Hicks discovers his lover doesn't live at the apartment where he has been meeting her, and realizes that the apartment has been long empty, he must struggle to keep his sanity and find the answer to the riddle. The Woman In The Fifth isn't for everybody. It's one of those movies that entertains you by raising possibilities and making you think about them. Some viewers might find the ending open-ended and ambiguous, although it really isn't. The Woman In The Fifth is a puzzler, but if you enjoy movies in this genre, such as Giuseppe Capotondi's ethereal, 2009 <B>The Double Hour</B>, its ending is easy to grasp. Even if it isn't you might enjoy the ambiance this film casts. It will give you a dark, haunted feeling that is a perfect match for our cloudy October days.
See Details