The Woman With The 5 Elephants
(2011)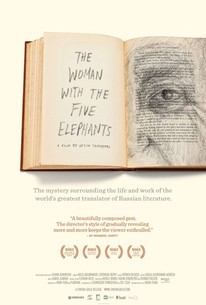 The Woman With The 5 Elephants Photos
Movie Info
The 5 elephants are Dostoyevsky's great literary works, all of which have been translated by the 87-year-old Svetlana Geier, considered the world's most masterful translator of Russian literature into German. The filmmaker visits with a woman whose fascinating, dramatic life story has been colored by some of the most violent events in 20th century European history: Stalin's purges of the kulaks (responsible for her father's death) and the Nazi occupation of the Ukraine (ultimately responsible for saving her life and leading to a university education in Germany). A rigorous intellectual whom we're privileged to watch parse the language, word by word, with her colleague, she warms the screen with the depths of her dignity and humanity. Language as a civilizing force is the thread that runs through Geier's life, and it illuminates every minute of the film. --(c) Cinema Guild
News & Interviews for The Woman With The 5 Elephants
Critic Reviews for The Woman With The 5 Elephants
Audience Reviews for The Woman With The 5 Elephants
An elegant and lyrical documentary about renowned translator Svetlana Geier, who has dedicated her life to translating Russian literature into German, more specifically, the works of Fyodor Dostoyevsky. Geier, who lived an extraordinary life, coming of age during WWII in the Ukraine and Germany, has both a keen mastery and unique appreciation of the beauty of language, which the film evokes with great beauty.
Matthew Lucas
Super Reviewer
The Woman With The 5 Elephants Quotes
There are no approved quotes yet for this movie.