The Yellow Sea (Hwanghae)
(2011)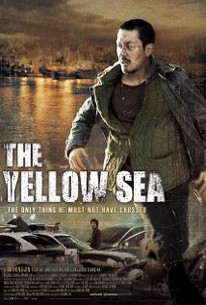 The Yellow Sea (Hwanghae) Photos
Movie Info
The Yellow Sea follows Gu-nam (Ha Jung-Woo), a cab driver from this region who embarks on an assassination mission to South Korea in order to pay off his mounting debt as well as search for his missing wife. He takes on the job without knowing much about his target and soon finds himself in the middle of a dangerous conspiracy as he begins to uncover a vicious trap of betrayal and lies. Framed for the murder he did not commit, Gu-nam is chased down by the police as well as those responsible for this mess - a ruthless mob boss (Cho Seong-Ha) and a tenacious assassin (Kim Yun-Seok). All hell breaks loose as gangsters and killers clash and collide in a game of hunt-or-be-hunted. -- (C) Showbox
Cast
Critic Reviews for The Yellow Sea (Hwanghae)
Audience Reviews for The Yellow Sea (Hwanghae)
Beating around the bush kinda makes it feel too slow-paced & eventually leading to its failure to leave the impact the plot otherwise had the potential to.
familiar stranger
Super Reviewer
Na Hong-jin's The Yellow Sea is a crafted Korean crime thriller.
The 2 hour 15 minute run time is lengthy, especially when the plot details get sketchy. The 4 chapter story does contain some good storytelling, but things can become elusive with a wealth of characters to focus on. Nonetheless, the plot twists come in at opportune times and the cloudiness of what comes next as the story progresses works in the film's favor.
Aside from the story, the gritty and realistic violence, full of knives and hatchets, is a pleasant surprise and in high abundance. The destructive vehicle sequences are the icing on the cake.
Ha Jung-woo is a convincing neutral protagonist. A lot of blood comes at the hands of Kim Yun-seok.
Once the final scene, which occurs in the closing credits, is over, The Yellow Sea finds itself as a recommendable picture out of Korea.
½
Na Hong Jin brings us his second feature after the dark and disturbing The Chaser. The Yellow Sea is a complex character piece that sees a man from Yanji City travel to South Korea to kill a man in order to pay off his missing wife's debts. Like The Chaser, this is also a film that mixes fast paced action and gritty realistic violence. In many ways The Yellow Sea is a lot like a poor man's Bourne, but not in terms of production quality. As Gu Nam travels to Seoul it isn't by plane in a fancy suit, he's herded into a ship in a room with dozens of other people, freezing and sick not everyone makes it. Gu Nam takes his time over the kill and it shows his inexperience. Of course, Gu Nam is really there to search for his missing wife but as things escalate so does the action. Incredible chases on foot and by car elevate this thriller to something that really does thrust a man on the run thriller into the real world. As the film progresses more and more people find themselves involved in the hunt for Gu Nam it's rather humorous to see him quite oblivious to those after him. The Yellow Sea sees the tragic places people from the almost ignored Yanji City find themselves in. Love and dedication are the main themes but are hidden behind an exhilarating wall of delicately crafted action sequences. Brilliant.
Luke Baldock
Super Reviewer
The Yellow Sea (Hwanghae) Quotes
There are no approved quotes yet for this movie.