Their Finest
(2017)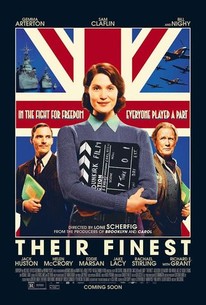 TOMATOMETER
AUDIENCE SCORE
Critic Consensus: Carried along by a winning performance from Gemma Arterton, Their Finest smoothly combines comedy and wartime drama to crowd-pleasing effect.
Movie Info
The year is 1940, London. With the nation bowed down by war, the British ministry turns to propaganda films to boost morale at home. Realizing their films could use "a woman's touch," the ministry hires Catrin Cole (Gemma Arterton) as a scriptwriter in charge of writing the female dialogue. Although her artist husband looks down on her job, Catrin's natural flair quickly gets her noticed by cynical, witty lead scriptwriter Buckley (Sam Claflin). Catrin and Buckley set out to make an epic feature film based on the Dunkirk rescue starring the gloriously vain, former matinee idol Ambrose Hilliard (Bill Nighy). As bombs are dropping all around them, Catrin, Buckley and their colorful cast and crew work furiously to make a film that will warm the hearts of the nation
News & Interviews for Their Finest
Critic Reviews for Their Finest
Audience Reviews for Their Finest
Being released the same year as Christopher Nolan's 'Dunkirk' coming in July, it seems a little coincidental similar referenced film is also released. 'Their Finest' is really about 1940's propaganda film making at the height of WWII, where an unlikely ensemble band together to make something incredible. I must say ever since I saw 'Prince of Persia' in 2012 I've always had a huge crush on Gemma Arterton and this film holds no bars as this is an outstanding performance from her as a Welsh screenwriter, while her chemistry and relationships with the other cast members is superbly delightful. It is in itself a piece of social commentary on the world war 2 period, also on past film industry practices. Admirable as it is as a small scale drama, whilst throwing smart pieces of comedy and romance into it's mix as it's one of the most unique and well accomplished pieces of British Cinema I've seen this year alone. I highly recommend this delightfully crowd pleasing underrated British flick that should be on people watch list this year even if you are definitely thinking of seeing Dunkirk in July.
Luke Eberhardt
Super Reviewer
"They don't make movies like they used to ..." goes the common complaint, but here is a work that directly contradicts that. Set in wartime Britain, a woman gets hired to work on a inspirational movie about women during the war. Drenched in nostalgia for a simpler time it mostly succeeds insofar as romcoms go.
Kevin M. Williams
Super Reviewer
Movies about making movies tend to lend themselves to a bit more depth. Paralleling the act of creation with the creation itself gives a level of self-awareness that can elevate a film. This is certainly the case in "Their Finest", a decidedly classy production. Gemma Arterton, an actress more commonly seen in the US in big budget action roles, gives one of her more reserved performances as a screenwriter for the British film industry during WWII. She is hired on by the Ministry of Information to write for a film about Dunkirk to encourage US involvement in the war and raise morale in Britain. Coping with her personal life and her rarely attained position amidst a war is arduous, and you feel her triumphs and losses in a story that rides the line between comedy, war drama, romance, and meta-narrative. There are plenty of "you-go-girl" moments bolstering the theme of female empowerment. Joining her on her journey is Bill Nighy as an hilariously pompous aging actor coming to terms with the future. They both face the problems of war in their quest for purpose, becoming examples of the dignified resolve that defined the British people during those dire years. The biggest surprise is how effectively the movie within the movie motivates and informs the emotional tone of these arcs. I got choked up by the end, even with the schmaltzy throwback acting style. Ultimately, "Their Finest" serves as a great reminder why we go to movies: not for reality but for the truth.
K Nife Churchkey
Super Reviewer
Their Finest Quotes
There are no approved quotes yet for this movie.