They Call Me Mister Tibbs
(1970)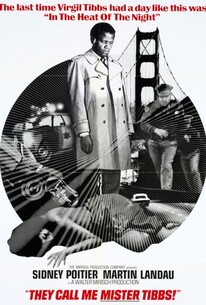 They Call Me Mister Tibbs Photos
Movie Info
In this sequel to the feature film In the Heat of the Night, Detective Virgil Tibbs is now working in San Francisco to solve a murder so he can prove that his friend Reverend Logan Sharpe did not do it.
Critic Reviews for They Call Me Mister Tibbs
There are no critic reviews yet for They Call Me Mister Tibbs. Keep checking Rotten Tomatoes for updates!
Audience Reviews for They Call Me Mister Tibbs
Flat return by Poitier to the character he played in In the Heat of the Night. He seems bored and the film is poorly paced.
This is the sequel to the award winning classic In the Heat of the Night and, though it is well meaning, this is a far step down from the place where its predecessor stands. Taking on a cool, protoblaxploitation feel, the film follows veteran homicide detective Virgil Tibbs as he takes on the cae of a murdered prostitute in San Francico, with the primary suspect being his friend political activist Reverend Logan Sharpe. Tibbs finds his loyalties divided, and danger all around, but there are some other things thrown in, such as cursory passes at social commentary and the effect of Tibbs' work ethic on his wife and kids. Despite all of this being decently played, none of it is fresh, exciting, or relevatory. It's a well worn story that is saved by decent perforamnces from Poitier (returning as Tibbs) and Martin Landau as Sharpe. Oh yeah, and Quincy Jones returns to do the music, and the score is solid, though not the most memorable thing ever. All in all, this is slightly better than okay, but it's nothing too special. I enjoyed it though, and appreciate the fact that this is something of a mild precursor to blaxploitation, but, that aside, there's nothoing really remarkable going on here, which is unfortunate given the power of the film this is a follow up to.
Chris Weber
Super Reviewer
With its kipper ties, flared trousers and proficient - yet dated - music, They Call Me MISTER Tibbs! is perhaps the Poitier film that has aged least gracefully. While its prequel, In The Heat of the Night, was borne from the epitome of cool that was the sixties, here the seventies nurtured this film, which lends it a kitsch value, as well as the air of a t.v. movie. Though these elements - such as seeing the funky theme start up to the tune of Sidney clocking someone with a telephone, or Ed Asner (tv's Lou Grant) "drive" a car to a filmed backdrop - make it endearing and a must-see for a light-hearted Saturday night. A world away from the usual Sidney vehicle we have here a trawl through San Francisco's red light districts, to which the family elements - though the most critically attacked - actually provide effective light. Also unusual is the amount of sexual tone Sidney is here allowed to display. Yet whereas in the former film Poitier was the big town Lieutenant working in small-town Mississippi, here he is on his own territory, thus shaving the film of one of its dimensions. Without Steiger to bounce off, what depth the script provides his character second time around comes from his wife and children, most notably his son. After slapping the boy into submission, Poitier hugs him, mourning the fact that "you're not perfect . and I can't forgive you." Not a perfectly-formed film by any means, this one does improve on repeated viewing, and the majority of ill feeling does seem to be down to disappointment. After all, how does one make a sequel to a movie that's hailed as a classic?
Cassandra Maples
Super Reviewer
They Call Me Mister Tibbs Quotes
There are no approved quotes yet for this movie.