This Thing of Ours
(2003)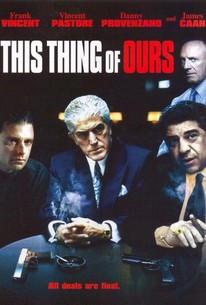 Movie Info
Grandnephew of the famous mobster known as Tony Pro, Danny Provenzano is the co-writer, director, and star of the independent crime drama This Thing of Ours (the title is a literal translation of the crime organization La Cosa Nostra). Provenzano plays young mobster Nick Santini, who wishes to impress his Uncle Danny (Frank Vincent) and the other elders of a New Jersey mob. Nick plans a major bank heist with his old pal Robert Biaggio (Christian Maelen) and computer geek Austin Palermo (Louis Vanaria). Using a complicated Internet scam to distort a communications satellite, they plan to steal more than 50 million dollars. Nick is eventually stuck with having to choose between his friends and the mob when high-ranking Patsy DeGrazio (Michael DelGaizo) kidnaps Austin. This Thing of Ours also stars Vincent Pastore (The Sopranos), James Caan (The Godfather), and Pat Cooper (Analyze This). Incidentally, Provenzano was arresting in 1999 under a 44-count felony indictment that included charges of racketeering, kidnapping, and money laundering. He eventually pleaded guilty to racketeering and was scheduled to begin a ten-year prison sentence in August 2003, just weeks after his film is released.
Critic Reviews for This Thing of Ours
Audience Reviews for This Thing of Ours
½
Danny Provenzano brings crime dramas down low with This Thing of Ours. While the concept is fitting for a mob story, in which this film is told, the execution is poor. For 95 minutes of screen time, the plot details lack depth and the characters constantly deliver lines of dialogue, meant to be witty, but come across as cheesy. Ultimately, this picture is as bland as its production value. The constant cursing is for a mature audience, as is the violence, which is backed by cheap sound and blood effects. Ultimately, there is more than enough profanity, but not enough bloodshed. There are some familiar faces in the crowd, although the question is why. Frank Vincent is okay. James Caan is an absolute waste. Louis Vanaria, Christian Maelen, and Danny Provenzano take the leads in unsatisfactory fashion. This Thing of Ours has very little to showcase and is therefore a film to be clipped.
This Thing of Ours Quotes
There are no approved quotes yet for this movie.