Three Businessmen
(1998)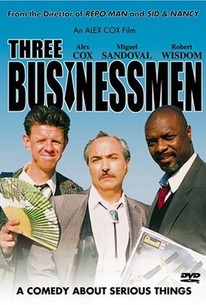 AUDIENCE SCORE
Critic Consensus: No consensus yet.
Movie Info
Alex Cox directed this comedy-fantasy screenplay by Tod Davies in a variety of locations (American Southwest, Hong Kong, Rotterdam). With a plot premise reminiscent of Martin Scorsese's After Hours, American art dealer Bennie (Miguel Sandoval) arrives in Liverpool and gets to his hotel with great difficulty, while British art dealer Frank King (Cox) has no such problem. Abandoned by the waiter in the hotel's restaurant, the two head out into the rainy Liverpool night but find mostly closed restaurants, eventually choosing a Greek restaurant where Bennie has an anxiety attack. They move on but find no satisfaction at a Chinese restaurant or a Japanese restaurant. Hunger pangs surface as they travel about via subway, bus, ferry and taxi. Eventually, they arrive in the middle of a desert where they meet another lost and hungry businessman, Leroy Jasper (Robert Wisdom). Shown at the 1998 Hamptons Film Festival.
Critic Reviews for Three Businessmen
Audience Reviews for Three Businessmen
It's interesting that "Three Businessmen" is credited as "An Exterminating Angel Production," because the film's debt to Luis Bunuel is obvious -- particularly in light of "The Exterminating Angel" and "The Discreet Charm of the Bourgeoisie," Bunuel's two masterpieces about mysteriously interrupted activity. "Lost in Translation" fans also will see some familiar turf here. Directed but not written by Alex Cox ("Repo Man," "Sid and Nancy"), "Three Businessmen" was shot in five different locations including Liverpool, Rotterdam, Hong Kong and Tokyo. But you may not notice the transitions (after all, so many cities have Asian districts). A motley cast drifts in and out of the frame, but most of the film's scant 80 minutes rest upon just two actors: Cox himself and Miguel Sandoval (who has appeared in most of Cox's projects). They play art dealers who happen to meet in a posh Liverpool hotel. Bennie (Sandoval) is a restless, overly friendly sort who strains to charm people with smarmy nicknames and comic accents. His part is somewhat overwritten, and this is the film's worst flaw. Meanwhile, Frank (Cox, quite solid as a performer) is the straight man who's a bit impatient and irritable. He likes to carefully tear articles out of newspapers. We don't know why. The two are frustrated with their hotel's lack of restaurant service, so they trek into the surrounding streets to find a meal. Their attempts to eat ("discreet" attempts, perhaps?) are repeatedly thwarted and they soon lose their bearings. They have many conversations along the way, though -- some intriguing, some dull. And wherever they go, they see posters advertising someone named Daddy Z. We don't know why. Stick around, even if the lack of plot irritates you -- there's a clever, absurdist ending that perfectly wraps up the story. And rest assured, the film's title eventually will make sense.
Eric Broome
Super Reviewer
Three Businessmen Quotes
There are no approved quotes yet for this movie.