Thunderbirds Are Go
(1966)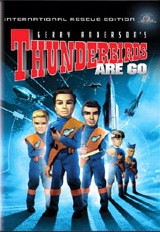 Watch it now
Cast
News & Interviews for Thunderbirds Are Go
Critic Reviews for Thunderbirds Are Go
Audience Reviews for Thunderbirds Are Go
El Hombre Invisible
Super Reviewer
Such a long winded film. This film takes so much time showing you unnecessary things. With much tighter editing and a shift in the story it probably would have been enjoyable. There a neat cameo by Cliff Richard Jr. and the Shadows, with an interesting dream sequence, that's the highlight of this film.
As a kid the Thunderbird TV show was spectacular fun, between the odd looking marionettes, the flying crafts, and the fantastic rescues it gave us something we had never seen before. The movie promised to give us what the TV show did plus more, unfortunately it does not live up to that promise. Stories that worked in a short format do not translate to a longer one and there are many times when nothing goes on in this movie. The dream sequence that includes what can only be described as a puppet music video is just bizarre even by the drug culture of the late 60's and ultimately it is a useless addition that should have been cut out at the storyboard phase of development. The culmination of the movie is that the Thunderbirds must rescue the Zero X after it runs into trouble coming back from Mars, another sequence where we ask if the trip was really necessary considering they spent about 5 minutes on the Martian surface. The Thunderbirds have a deserved cult following but it should be restricted to the TV show as only the most hardcore fans will enjoy this misguided adventure story.
Mike L
Discussion Forum
Discuss Thunderbirds Are Go on our Movie forum!
News & Features