Thunderbirds Are Go
(1966)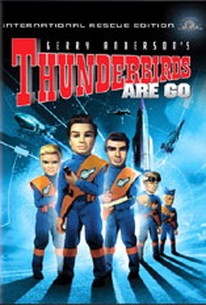 Movie Info
Rating:
NR
Genre:
, ,
Directed By:
Written By:
In Theaters:
On DVD:
Runtime:
Studio:
United Artists
Critic Reviews for Thunderbirds Are Go
Audience Reviews for Thunderbirds Are Go
As a kid the Thunderbird TV show was spectacular fun, between the odd looking marionettes, the flying crafts, and the fantastic rescues it gave us something we had never seen before. The movie promised to give us what the TV show did plus more, unfortunately it does not live up to that promise. Stories that worked in a short format do not translate to a longer one and there are many times when nothing goes on in this movie. The dream sequence that includes what can only be described as a puppet music video is just bizarre even by the drug culture of the late 60's and ultimately it is a useless addition that should have been cut out at the storyboard phase of development. The culmination of the movie is that the Thunderbirds must rescue the Zero X after it runs into trouble coming back from Mars, another sequence where we ask if the trip was really necessary considering they spent about 5 minutes on the Martian surface. The Thunderbirds have a deserved cult following but it should be restricted to the TV show as only the most hardcore fans will enjoy this misguided adventure story.
Mike L
½
Didn't much care for this film, it does have a unique history among television genres. The Thunderbiirds first big breakthru from black and white tv series onto the big screen and in color was a huge hype in the 1960's I'm sure. The effects, marionette details, voice acting, and cinematography were all impressive. The part that fails is the long winded story. Was there even a point to it all other than to showcase the effects which were unique for its era? There really was no substance in the plot. Even the puppetry was just down right lazy. The puppets are for the most part are always stationary with their mouths yapping away. Instead of walking they always manage to be be seated on a device that would transport them someplace. Seemed to have ran much longer than it needed to.
Stephen Mulvaney
Keep your Power Rangers and Ninja Turtles, I'll stay with Scott, Virgil, Allen, Gordon and John Tracy, plus Brains and Lady Penelope, of course. They help make up the International Rescue team, which uses state of the art (circa 2056) equipment to save people in danger. Hard to believe this film is over 40 years old. Watching the 90-minute movie boggles my mind at the skill the creators had with not only marionettes (that even sweat), but also the storylines and fast-paced action. With humor, action, suspense and even a little hint of romance that would be spoofed years later in Team America by the South Park team. This one's definitely reserved for those who are looking for a cool movie shot in an alternative medium. So get off of your "I'm too cool" high horse and enjoy this fun film.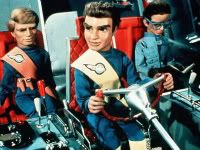 El Hombre Invisible
Super Reviewer
Thunderbirds Are Go Quotes
There are no approved quotes yet for this movie.