The Tiger Brigades (Les Brigades du Tigre)
(2006)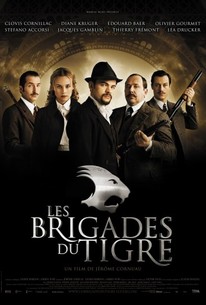 AUDIENCE SCORE
Critic Consensus: No consensus yet.
The Tiger Brigades (Les Brigades du Tigre) Photos
Movie Info
As World War I looms ever closer on the horizon, an elite police task force organized by Minister of the Interior Georges Clemenceau (aka "The Tiger") mobilizes to apprehend the gang responsible for the first motorized hold-up in French history. The year is 1912, and despite operating in the shadow of the guillotine French gangsters continue to flourish. In order to ensure the safety of the public Minister of the Interior Clemenceau creates a dozen "mobile brigades" consisting of policemen with automobiles and fingerprinting equipment and deploys them nationwide. One such unit, fronted by straight-arrow cop Valentin (Clovis Cornillac, and consisting of sardonic brute Pujol (Edouard Baer), badge-toting pugilist Terrasson (Oliver Gourmet), and Italian immigrant Achille (Stefano Accorsi), is assigned the task of tracking down the gang led by notorious anarchist Jules Bonnot (Jacques Gamblin). An ambitious criminal mastermind whose recent heist involving a getaway car set a new standard in armed robbery, Bonnot has grown dangerously emboldened while establishing himself as France's most wanted. Meanwhile, as the Paris opera prepares to stage a new version of +Ivan the Terrible and Russian princess Constance Bolkonski (Diane Kruger) embarks on an affair with Bonnot behind the back of her unsuspecting husband (Alexandre Medvedex) - who is furtively attempting to establish a self-serving three way alliance between Russia, England, and France - crack journalist Jean Jaures (Andre Marcon) struggles to bring it all together in the headlines as World War I and the Russian Revolution loom heavy on the horizon. Director Jerome Cornuau collaborates with screenwriters Xavier Dorison and Fabien Nury to resurrect the popular French television series of the 1970s with a multi-layered period thriller that is likely to evoke memories of the similarly themed Untouchables for stateside audiences.
Critic Reviews for The Tiger Brigades (Les Brigades du Tigre)
All Critics (1) | Fresh (0) | Rotten (1)
It feels so safe that when a character dies we do not really mind, since we are reassured by the knowledge that the actors portraying them are just doing their well-paid jobs.
Audience Reviews
There are no featured reviews for The Tiger Brigades (Les Brigades du Tigre) at this time.
The Tiger Brigades (Les Brigades du Tigre) Quotes
There are no approved quotes yet for this movie.