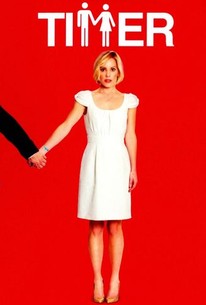 TiMER
2009, Romance/Comedy, 1h 39m
15 Reviews
2,500+ Ratings
Rate And Review
Movie Info
A mysterious timer decides the romantic fate of a Los Angeles woman (Emma Caulfield) in search of true love.
Audience Reviews for TiMER
"TiMER" delves past its Indie shortcomings and delivers an interesting and thorough science fiction, romantic comedy about a world where wristwatches embedded in your skin provide a countdown to the moment you will meet your soul mate. A highly entertaining concept, the film is able to provide twists without ever leaping too far over the top. Emma Caulfield carries herself well, rising above what a normal Indie actress would often muster for the role, while John Patrick Amedori and Desmond Harrington both step out of their regular roles and basically steal the show.

A concept that could be more interesting than captured here, and come the final outcome to me it felt a few emotional cheats had to come in, a concept not fully run with, but saying that there is things in here to enjoy. The lead is likeable enough, although sister isnt, and the various interests she has in men, they come off okay.

Charming. Cute. Enjoyable.

Genuinely sweet and irrevocably well plotted, Timer is one of those indie comedies that get you unlike its big budgeted star studded counterparts. The impressive Emma Caulfield (Buffy) takes the lead in a future where timers tell you when you will meet your soul mate. The film is made up of well placed humor, superb performances, even of the supporting actors, and a premise that not only has promise but holds water throughout. There are many twists and turns, completely unforeseeable from the trailer and descriptions of the film. It's not a sci-fi film by any means, substituting any futuristic inquiries for more of a parallel universe or fantasy world, completely believable if you have willing suspense of disbelief. There were laugh out loud moments and heartbreaking ones, technology's stance overwhelming the main character, which is relatable as a thirty-something whose biological clock ticks in synchronicity with the timer on her wrist. With an intriguing subplot and room for our own interpretation of the ending, TiMER only disappoints the crowd with their own conceptions of how this film should end. Many people wanted romantic fluff, but TiMER is beyond its parameters of what a usual indie comedy allows, and therefore is not for the feeble of heart.
See Details