Toad Road
(2013)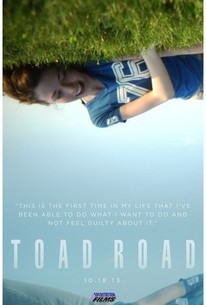 Movie Info
A different kind of American independent horror film, the hypnotic Toad Road, presented by Elijah Wood and his SpectreVision production company, unfolds like a hallucinatory cross between the sexual candor of Larry Clark and Harmony Korine, and the backwoods creep-out of The Blair Witch Project. Young James kills time with his small town druggie friends, engaging in excessive chemical intake, until he meets sweet new arrival Sara. But just as James wants to abandon the narcotics life, Sara wants him to take her further into mind-altering experimentation...and she also wants him to introduce her to the sinister local legend of Toad Road, a spot deep in the forest that is apparently home to the Seven Gates of Hell. Writer-director Jason Banker's debut is a unique fusion of documentary-like realism, and otherworldly, haunting rural terror. Unlike any other film you'll see this year, Toad Road is a mesmerizing trip. (c) Artsploitation
Rating:
NR
Genre:
, ,
Directed By:
Written By:
In Theaters:
On DVD:
Runtime:
Studio:
News & Interviews for Toad Road
Critic Reviews for Toad Road
Audience Reviews for Toad Road
There's a tragic irony to the events that take place in the movie Toad Road. Shortly before the film premiered in 2012 one of it's actors died of a drug overdose. Her name was Sara Anne Jones and she played a drug addict named Sara. This film is dedicated to her memory which adds that much more poignancy to the story (and her character). James is the central character of the story. He's somewhere in his late twenties I believe. He's a self-destructive, drugged out of his mind slacker who hangs out with his self-destructive, drugged out of their mind slacker friends. His behavior has put him into therapy due to his father's wishes. Hard to tell if it's helping since he still abuses drugs heavily. His friends are no help in this area since they themselves are either indulging in acid, cough syrup, weed, snorting condoms up their noses or blowing Vicks vapors into each others eyes. It's all for the sake of getting wasted. How Fun! Then there's Sara. She's the type of person you DO NOT want in your drugged out circle of friends. She comes from a good home and good family values, but she herself wants to experience things that go beyond the usual boring normal crap. Through a mutual (and lesbian persuasion) she becomes a sort-of regular to the group. She starts to indulge in light beer and weed. Y'know the basics before heading to the heavy stuff. Then she meets James and becomes smitten by him. I really loved this aspect of the story. If you threw out the horror aspect (which I will get to later) and just focused on these two who are complete opposites it would've been just as interesting. Sara is the novice and James is the teacher. At first, James is immediately apprehensive toward Sara getting involved in any type of psychedelic drugs. She persists just like anyone who wants to indulge in hard drugs would. It's to be part of the crowd. You see your friends having a "good" time and you want to be apart of that. Except what Sara doesn't realize is that drugs are not the answer, but even that makes James look hypocritical which is why he slowly resists the temptation of NOT letting her try it. Because he doesn't want her to leave him. Aside from the drugs, there is also a very sad element to this movie. These people, as addicted as they are, really just want somebody to save them from themselves. They'll even goes as far to believe that drugs are the only way to someone's heart. Hence Sara's. James has been doing this self-destructive stuff for a LONG time. He's getting to the point where he knows this type of behavior can't last forever. Something new has to come to the horizon. Now if only Sara was in some ways helpful in getting James clean then they would've lived happily ever after. Unfortunately, Sara has a very devious and dark influence on what she wants. Experiencing psychedelic drugs is something she wants to experience the most, but she wants to do it while going through the 7 Gates of Hell. Not exactly a literal thing, but it's been told as an urban legend that if you go to York, Pennsylvania (where the movie is set) and head to "TOAD ROAD" you'll find the first gate which will then lead you to six others. Supposedly, an insane asylum is nearby and anyone who goes through each gate will in fact go straight to hell. This is the basis of the film in general. It revolves around this urban legend. Whether it's real or not is a different story. Shot in the style of a documentary, Toad Road is an impressive and disturbing film. It's one of those meta-horror pictures where something is made as a metaphor for the horror that takes place. Like, for example, Bug which starred Ashley Judd and Michael Shannon was a metaphor for drug addiction. Same case here. It's done in a very naturalistic manner which made me wonder if I was really watching a documentary. Overall, if Gus Van Sant and Harmony Korine got together to make a horror movie it might look something like this.
The Vulture
½
Toad Road exactly resembles the last two decades of Tom Sizemore's career. Filled with drugs, bad acting, delusions, odd sex and more than one type of horror. At less than 90 minutes this film still seems to drag on and is never appealing.
Ryan Klinen
There is a pearl here. Unfortunately it's buried beneath a focus on nihilistic partying and pointless self-destruction. What should have been elemental to the story becomes a bludgeon that keeps it from its full paranormal potential. It is however beautifully shot with an wonderfully immersive soundtrack.
John Wagner
Toad Road Quotes
There are no approved quotes yet for this movie.