Tôkyô Zankoku Keisatsu (Tokyo Gore Police)
(2008)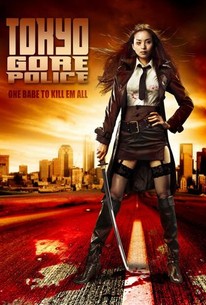 Tôkyô Zankoku Keisatsu (Tokyo Gore Police) Photos
Movie Info
A mad scientist known as Key Man has created a rampaging virus that mutates unsuspecting humans into nightmarish abominations of nature, and in order to dispose of these repulsive monstrosities, the Tokyo police have created a special squad of fearless freak fighters. Chief among these brave officers is Ruka, a sword-swinging dealer of death who has a special knack for dispatching with Key Man's hideous creations. Despite the fact that they operate on opposite sides of the law, Key Man and Ruka have both dedicated their lives to one common goal: seeking vengeance against the crooked cops who killed both of their fathers many years ago.
Critic Reviews for Tôkyô Zankoku Keisatsu (Tokyo Gore Police)
Audience Reviews for Tôkyô Zankoku Keisatsu (Tokyo Gore Police)
Eihi Shiina, that freakish girl from Audition, stars as a sword-wielding agent of death in Tokyo Gore Police, a B-movie of epic proportions. Strange and unnecessarily violent, Yoshihiro Nishimura's dystopian futuristic horror packs in a lot of tongue in cheek humour and a sexy heroine you can't help but route for.
Edward Boxler
Super Reviewer
[img]http://images.rottentomatoes.com/images/user/icons/icon14.gif[/img]
Directors Cat
Super Reviewer
½
Well its certainly gory that's for damn sure, I've never seen so much fake watery looking blood. It literately explodes from the screen into your face! fountains and streams of gushing blood at every turn. The films instantly conjures thoughts of 'Robocop' and 'Starship Troopers' as we are introduced to little news flashes or adverts showing thick dark humour laced with heavy doses of satire. A privatised police force that 'protects' Tokyo against the threat of 'engineers' (self mutated insane berserker criminals). There's such a colourful blend of genres here its hard to pin down really, think 'Kill Bill' with quirky fantasy and horror. The plot is bizarre and chock full of fetish and kink, rubber bound ladies and femme fatales, a real pleasure for all alternatives out there. Add a crazy mix of down right blatant B-movie effects alongside some pretty good gore effects combined with ingenious camera angles and surreal visions. I liked the futuristic Japanese police with their black samurai suits and many of the nightmarish mutant engineers are fun to see in action. Lots of katana face splitting and body popping with a man who shoots eyeballs from little cannon extensions in his eye sockets to a girl who's lower half becomes a gaping alligator-esque maw. Its totally comicbook or manga I guess with so much blood it becomes funny rather than scary but that's the idea really. Not vicious more screwball really but with some nice slick visuals at times, bizarre imagination and many memorable moments. I think I can see where Tarantino looks to for inspiration or is it vice versa? loved the limbless pet gimp.
Phil Hubbs
Super Reviewer
Tôkyô Zankoku Keisatsu (Tokyo Gore Police) Quotes
There are no approved quotes yet for this movie.