The Train Robbers
(1973)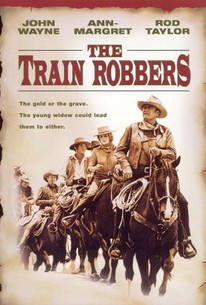 Movie Info
Director Burt Kennedy lends a gentle giddyap to this soft-hearted John Wayne western. The plot concerns Lane (Wayne) and an assortment of old-time buddies -- including Jesse (Ben Johnson) and Grady (Rod Taylor) -- to help Mrs. Lilly Lowe (Ann-Margret). It seems that some time in the past, her deceased husband had stolen half a million dollars in gold and buried it in the Mexican desert, and only she knows where it's been hidden. Lane and his friends don't want the gold, but the reward money for its return. Lilly wants the gold found so that she can clear her good name. But, unfortunately, the Good Samaritans find themselves menaced by a viscous outlaw band and a cool-headed Pinkerton man (Ricardo Montalban).
Critic Reviews for The Train Robbers
All Critics (5) | Top Critics (1) | Fresh (1) | Rotten (4) | DVD (1)
One of John Wayne's last films (he died in 1979) is also one of his weakest, a tired and tiresome Western for which he is way too old.

How can the author of this piece of shit be the same guy who wrote Seven Men From Now and Comanche Station?

Ozus' World Movie Reviews
Audience Reviews for The Train Robbers
½
The Train Robbers is a very good John Wayne western. This is the standard John Wayne and a group of buddies involved in some ordeal, with some good action scenes and great shots of the west. For those who are big fans of the Duke, you'll like this picture and add it to your library of solid John Wayne pictures. For those who are not big Duke fans, they will never get it and that's why they rate this movie poorly. What's unique about this particular "John Wayne and a group of buddies" film is that it's a bit quirky and has a different look to it than the other films in this genre. Read Roger Ebert's review for a better sense of what I am referring to.
Rocky Sullivan
½
You ever bury a baby? Mrs. Lowe is widowed when a bank robbery goes awry. Her husband gets away with the gold, hides it, tells his wife where it is, and shortly thereafter dies. Seven individuals who helped the husband with the crime are looking for the gold. Mrs. Lowe hires man who recruits some associates to protect her and lead her to the gold. "Any women in this town?" "One." "Good. We can fight over her." Burt Kennedy, director of Hannie Caulder, Suburban Commando, The War Wagon, Dirty Dingus Magee, Return of the Seven, and The Money Trap, delivers The Train Robbers. The storyline for this is straightforward but fun to watch unfold. The action and shootouts are well done and the characters are appropriately grity. The cast includes John Wayne, Ann-Margret, Rod Taylor, Ben Johnson, and Ricardo Montalban. "You still here?" "We rode two days." "That's your problem." This was recommended to me by Fios so I gave it a chance. I am a fan of most John Wayne westerns and this was an above addition to the genre from him. This wasn't perfect, and there were some cheesy sequences and lines, but the overall execution was solid. This is a worthwhile addition to the genre for fans of westerns. "Don't get old. You'll live to regret it." Grade: B-
Kevin Robbins
Very formulatic and average in terms of plot, but it doesn't really matter when John Wayne's in it. This is actually a very fun movie and extremely watchable. While it's not fantastic or one of The Duke's best, it's a solid entry in his film career and harmless in nature. You really can't go that wrong with John Wayne if you're a fan of his.
Conner Rainwater
Super Reviewer
The Train Robbers Quotes
There are no approved quotes yet for this movie.
Discussion Forum
Discuss The Train Robbers on our Movie forum!