Transmorphers: Fall of Man
(2009)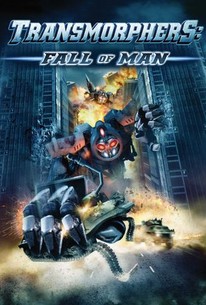 AUDIENCE SCORE
Critic Consensus: No consensus yet.
Movie Info
Set in the present day, this Transmorphers prequel finds a small band of humans seeking refuge beneath the earth when the planet is besieged by giant robot invaders.
Critic Reviews for Transmorphers: Fall of Man
All Critics (2) | Fresh (0) | Rotten (2) | DVD (1)
The biggest problem I had was the casting of writer Shane Van Dyke in the lead hero. If he hadn't written the script, I doubt he'd have even had an audition.
Audience Reviews for Transmorphers: Fall of Man
Number 2 in our "Horrible Asylum Movie Night", and I must say it did not disappoint. A year ago, after laughing endlessly over the clip from Mega Shark Vs. Giant Octopus where the shark eats a plane out of mid-air, we decided to go and see the movie; it was devastatingly hilarious. Just a week ago my friends and I got The Day The Earth Stopped off of Netflix and laughed our asses of at the utter stupidity and amateur filmmaking. A week later, we chose this over Titanic II as our next Asylum cinematic conquest; My friend's and I got a kick out of pointing out every flaw in the movie. And there were a lot. "Shoddily made" would be an understatement. The repetitive film editing, the abuse of shaky camera angles, the Asylum's trademark anti atmospheric cinematography and awful special effects; this movie had it all. And more: so many plot holes it could have been a piece of swiss cheese, no actor (and I mean NO actor) had any talent whatsoever and infact were absolutely despicable, and this film was devoid of any logic or sense or concept of reality or originality. The worst aspect was the dialogue. In the middle of the movie there's a ten minute long conversation between the two main characters which my friends decided to use as time to look up all of the movie mistakes on moviemistakes.com . My favorite line is what first seems like an attempt at character depth then turns out to be completely absurd: "Hows your niece?" "You mean Amy? She's doing all right. They put a pacemaker in her. Just like an old man. Can you believe what modern technology can do? Simply marvelous." (Later)"Hows Amy doing?" "Fantastic! I am so glad that the doctors put that pacemaker inside of her! Now she can live to see the end of the world!" (Awkward silence) (Amy's chest bursts open and the pacemaker pops out and transforms into a robot spider) I considered giving this a very low rating, seeing at how unintentionally entertaining it was, but several factors lead me to give this the lowest rating possible: 1. In the beginning, an excessive amount of characters are introduced very quickly with lame attempts at character depth (Iraq war veteran, reading a book, uses a Starbucks card), which was so overwhelming that I was just depressed at how poor the director's and screenwriter's storytelling was. 2. A main character spends half the film running from explosions in a mini-skirt. Sure, she's super hot, but after a while watching her pull down her skirt whilst robots shoot rockets at her or just when she's crossing the street, it just made me want to say "F*** You!" to the director. 3. A dreadful ending. The exact same thing as the beginning of Terminator: Salvation. Horribly delivered and was very anti climactic, even though the movie couldn't really have a good climax because the plot was so f***ing awful anyway. So, Transmorphers: Fall Of Man, an obvious rip off of Transformers 2: Revenge Of The Fallen, is of no resemblance to the latter. Just wanted to make that clear. I'm going to make a statement: this is the worst movie I've ever seen. And that's saying A LOT. There are much funnier bad movies, and this one fails on too many levels too be listed with one of them. 00/100
Simeon Deutsch
Super Reviewer
Transmorphers: Fall of Man Quotes
There are no approved quotes yet for this movie.