Trigger Man
(2007)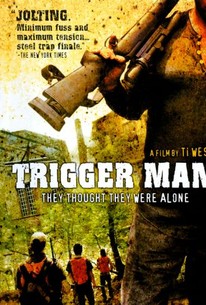 Movie Info
Three friends out for a day of hunting discover they're the ones whose lives are in danger in this independent thriller. When a guy announces to his friends that he's getting married, two of his buddies decide to take him out for a final weekend of male bonding, centered upon hunting and camping. The three New Yorkers head to Delaware and find a secluded spot in the woods where they drink beer and occasionally shoot at random animals. However, as they happen upon a beautiful ridge, shots ring out and they discover they're not the only people in the forest. Before long, the guns go off again and the hunters realize that they've become a target, and they have to find a way out of the suddenly forbidding woods before it's too late. Starring Reggie Cunningham, Ray Sullivan, and Sean Reid, Trigger Man received its world premiere at the 2007 South by Southwest Film Festival.
News & Interviews for Trigger Man
Critic Reviews for Trigger Man
Audience Reviews for Trigger Man
½
*** out of **** Director (and writer...and editor) Ti West has recently described his feelings towards his debut feature "The Roost". In an interview for his newest, "The Innkeepers", he revealed that while he's proud of the low-budget indie chiller about homicidal bats attacking teenagers on a farm at night and turning their victims into zombies, he believes that it served more as a set-up for his style rather than his storytelling. Indeed. In "Trigger Man", West's second film overall, he seems to still be establishing the technique; but the question is, who for? Both this and "The Roost" are strong in atmosphere but weak in character development as well as logic; so West seems to have been at home with his style for a while now. Maybe he believes that he should give the audience some time to warm up to his slow-burn tendencies. The sad truth is that some people will never accept the slow-burn stylistic as it appears in modern cinema. But I think West is one of the more worthy contenders for 21rst Century Hitchcock; although his early features lack the strong characterization and thematic elements of Hitchcock's more notable works, although West wears his influence on his shoulder. "Trigger Man" is more admirable than it is thoroughly exciting; but I like the way that it builds tension quietly and realistically. I'm here to judge it based on what it's got rather than what it doesn't. It's not a character-driven thriller and it doesn't want to be; so what the hell, I'll go ahead and say that for what it is, I really liked it. Three friends from New York go to Delaware for a weekend of deer hunting in the woods. For what may seem like a long time for movie-goers with a short attention span, they walk around in these woods without much success. As one of them points out, even a squirrel would be satisfactory at this point (for something to shoot at). Well, eventually they do spot a deer; and things only escalate from there. They rest at some cliffs that overlook the city nearby, and it's there where the film really gets going. One of the friends is shot, the others duck for cover from the un-seeable assailant, and it ends up with just one of them having to fend for himself in the wilderness. The killer is kept in the dark up until the end, where he's revealed to be played by Larry Fessenden (whose production company, Glass Eye Pix, distributed the film). This leaves a lot to happen after the second friend has been shot and killed; the sole survivor wanders around a lot trying to save his own skin, eventually making it into the city so that he may participate in a showdown with the villain who hides within it. Some may call it ponderous, but I call it true suspense; there's always a purpose behind the slow pacing of the film and West pulls you in with his style, which is almost documentary-like. Some might also, therefore, call it amateurish; but to me, it's just more proof that you don't need fancy cameras (or actors, or sound recording devices, or special effects) to accomplish a better-than-average thriller. West isn't one to perform to the expectations of others. Many who claim themselves to be horror fanatics and just general viewers overall are likely to be angered by "Trigger Man". It demands a lot of attention although not necessarily a lot of time (an hour and twenty minutes). It's a personal bias of mine; to want to watch a film that slowly builds a sense of tension and unease rather than a lazy, stupid one that just gets straight to the point so that casual viewers can be happy. In my opinion, this kind of movie is made for real movie-goers; people who value the slow-burn of some thrillers such as this, as well as the human edge that it can give some movies. I can recommend it to pretty much anyone who is like me - as a very well made and low budget flick that deserves more attention than it ever got - and at the same time tell those who are easily bored by these films to stay far away. I just want the best for all the curious parties.
Ryan Marshall
Super Reviewer
Extremely effective and paced in a way that is both aggravating and genius. The first 30 minutes are amazing because they put you a completely relaxed and safe environment. After that it's just disturbing. A lot of it has to do with the creepy score that managed to get to me after a while. The other reason has to do with the amount of suspense, it's really like nothing else. What's so odd about this movie is that at times it looks like someone's home movies of a hunting trip, that's what makes it truly an effective horror movie.
Conner Rainwater
Super Reviewer
½
Definitely original. It's slow moving at first, but that's not a bad thing, it works extremely well to build tension and contrast the following shock and suspense that follows. It also serves to let you experience the film unfold with the characters. One problem I found was the deliberate shaky hand-help video camera, it was used for a reason, an effective one at that, but the wobbling and fast jolt movement becomes a bit nauseating. Although you could just chalk up the dizziness to an effort to disorient the viewer... who knows. The sound as well is very well done. Bottom line, if you can sit down for 80minutes to watch this and not get too fidgety you'll experience at tense and different sort of thriller.
Patrick Dolan
Super Reviewer
Trigger Man Quotes
There are no approved quotes yet for this movie.