The Trumpet of the Swan
(2001)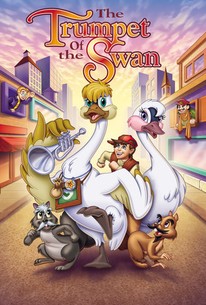 The Trumpet of the Swan Videos
The Trumpet of the Swan Photos
Movie Info
A tale about a trumpet swan named Louie who receives a voice only after his father risks all to steal a trumpet for him. Developing a valuable relationship with Sam, a young boy who becomes his friend and mentor, Louie becomes a famous musician in order to earn enough money to pay back the music store owner for the lost instrument. In the process, he also wins the heart of the lovely Serena and, in the end, the two trumpeter swans live happily ever after.
Critic Reviews for The Trumpet of the Swan
Audience Reviews for The Trumpet of the Swan
½
That's the sound of romance! A proud pair of Trumpet Swans give birth to a baby swan that unfortunately grows up without a voice that his parents can hear or understand. One day he comes across a silver trumpet that gives him a voice that allows him to communicate. He restores his place in the flock but trouble with humans is afoot. "We did it! An egg! My egg!" "Our egg." Terry Noss (Dennis the Menace and the Swan Princess) and Richard Rick (Black Cauldron and The Fox and the Hound) collaborate to deliver The Trumpet of the Swan. The storyline for this picture is average and on par with Swan Princess. The animation is just okay and the voices were provided by Jason Alexander, Reece Witherspoon, Seth Green, and Joe Montegna. "I haven't got to the part about objections yet." I came across this on HBOGO and decided it may be a fun movie to watch with my daughter. She adored it beginning to end. I cannot say this is anything special, or worth purchasing, but it is worth a viewing once with your child. "Go easy on the baked beans." Grade: C
Kevin Robbins
Even though there are only a few appeals, the animated adaptation of another E.B. White's novel is a film for youngsters like the ones who watch another kiddie show "Dragon Tales." (C+)
Kyle Mobray
Without a doubt, the worst animated film I have ever seen. Music so bad it's scary, a plot that makes absolutely no sense, awful voice syncing, and, worst of all, the worst line in cinema history. "Is it time for recess yet?" -The Teacher (in the most obnoxious voice ever)
john fricken smith
The Trumpet of the Swan Quotes
There are no approved quotes yet for this movie.
Discussion Forum
Discuss The Trumpet of the Swan on our Movie forum!