Twist of Faith
(2004)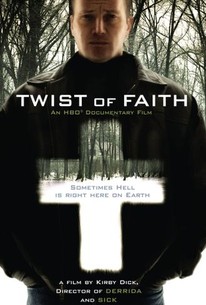 Movie Info
A man must reconcile his religion with a need for justice and closure in this documentary. Tony Comes was a firefighter living in Toledo, OH, with his wife and children. While Comes was a solid family man and had the respect of his fellow firemen, he was hiding a secret that had been haunting him for almost 20 years -- when he was 14 years old, Comes was sexually abused by a Catholic priest, an event that left him with emotional scars that were slow to heal. In 2002, as stories of child sexual abuse at the hands of Catholic clergy were appearing in newspapers across the country, Comes decided it was time to take action. Comes met with the bishop in his parish and told him of the incident, but he soon discovered that he was not being told the truth about what was being done to prevent the priest from molesting other children. Seeing little alternative and concerned about the safety of others, Comes filed a lawsuit against the parish. Twist of Faith is a documentary that follows Comes as he deals with his inner turmoil and the often uncharitable reactions of others as he attempts to bring his abuser to justice, while maintaining his sincere faith in God and his loyalty to the Catholic Church. Produced for the premium cable network HBO, Twist of Faith was nominated for Best Documentary Feature honors at the 2005 Academy Awards.
Critic Reviews for Twist of Faith
Audience Reviews for Twist of Faith
It works as a companion to the horrifying documentary 'Deliver Us From Evil'. That film, while it dealt with the emotional toll it took on families and their personal rage at those responsible, was more about the environment in the Catholic Church that allowed this type of rampant abuse to occur and remain secret for so long. 'Twist of Faith' is entirely about the personal cost of sexual abuse on the victims. It never goes away, and its arguable that it may never really get better. The toll it takes on this mans family life, his sexual relationship with his wife, his interaction with other people, his religious faith, and every day moments is astronomical. Director Kirby Dick wisely keeps the focus on the people and lets them talk and tell the story. Its unbelievably sad and infuriating that this Priest could destroy so many lives . . . and not just those he abused but the loved ones of the victims as well.
Alec Barniskis
Super Reviewer
Twist of Faith Quotes
There are no approved quotes yet for this movie.