2 ou 3 Choses que je Sais d'Elle (Two or Three Things I Know About Her)
(1967)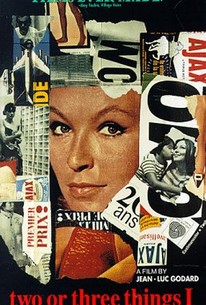 2 ou 3 Choses que je Sais d'Elle (Two or Three Things I Know About Her) Photos
Movie Info
The feminine pronoun in the title of this film from Jean-Luc Godard refers to both a French housewife and the city of Paris, as each are changed in fundamental ways by the growth of consumer culture in Europe. Juliette Janson (Marina Vlady) lives with her husband and two children in a high-rise apartment block in Paris. Juliette and her family used to live in a working class community on the outskirts of town, but they've been drawn into the city in search of a higher standard of living, reflected in their new home and their desire for more of the latest consumer goods. Juliette's husband can barely support the household on his salary, so she taken to working as a prostitute without his knowledge to help pay the bills. Deux ou Trois Choses Que Je Sais d'Elle (aka 2 or 3 Things I Know About Her) follows Juliette over the course of a seemingly ordinary day as she looks after the kids, takes care of her husband and plies her trade when she has the chance. Shot simultaneously with Made In U.S.A., 2 or 3 Things I Know About Her found Godard moving away from his fascination with American genre cinema while exploring radical politics and alternatives to conventional narrative frameworks; it proved to be one of his last films to reach a large audience in theaters. ~ Mark Deming, Rovi
News & Interviews for 2 ou 3 Choses que je Sais d'Elle (Two or Three Things I Know About Her)
Critic Reviews for 2 ou 3 Choses que je Sais d'Elle (Two or Three Things I Know About Her)
Audience Reviews for 2 ou 3 Choses que je Sais d'Elle (Two or Three Things I Know About Her)
Be warned: "Two or Three Things I Know About Her" is one of Jean-Luc Godard's "difficult" films. The premise is a grabber -- an attractive Parisian woman lives with her husband and son, but secretly prostitutes herself to help pay the bills -- but the action is tedious and hardly titillating. There is really no "plot." No sense of events which move a story forward. There is only a situation. It's often debated whether the titular "Her" refers more to the woman or the city of Paris. Either is possible. Certainly, lead character Juliette reveals very little of herself -- either emotionally or physically -- and, frankly, actress Marina Vlady gives a rather flat performance (a café scene with a cynical Juliet Berto had me wishing she had starred instead). Godard's attention strays to multiple other women around the city (many of whom break the fourth wall and introduce themselves to the viewer), and he's also distracted by countless construction sites (a symbol of gentrification and government intrusion) and, of course, any billboard, marquee or product advertisement he can find. The script is less about the specifics of Juliette's life, and more about a progress-crazed metropolis where selling oneself (literally) becomes necessary to keep up. It's a consumer world where the electricity man nonchalantly intrudes on a woman in her bathtub, and the tricks pay with grocery items rather than cash. The jaded pimp even watches his girls' children while sex occurs in adjacent rooms. The film feels more like a personal essay than a story -- Juliette recurrently speaks to the camera, and Godard himself wears out his welcome as a narrator, churning through heady thoughts in an intense, intimate whisper. As in many of his other '60s films, he is fixated on American imperialism and Vietnam, as well as the flighty connection between language and the reality which it presumes to describe. At one point, Juliette muses, "I know they're my eyes because I see with them. I know they're not my knees or whatever, because I've been told so. Suppose I hadn't been told so?" Your reaction to this film will depend a lot on how receptive you are to this sort of arid philosophizing.
Eric Broome
Super Reviewer
a film about, well, everything. by being about everything the film wasnt really about anything until the very end when it revealed a message that was fairly profound. although the film possessed many of the artistic signatures of godard, his normal storytelling and dialogue emphasis was missing. as a plot driven film it might have been powerful, as a documentary it might have been interesting, as sort of a hybrid of the two it felt more like disconnected and random sequences providing short and limited commentary on various cultural issues. in the end two issues hit home and are finally presented clearly, consumerism and manotany, they are presented with bias, but the commentary is worth attention. in the end, godard might have accomplished a certain task, but the film fell mostly empty.
To hell with stories! Goddard don't need no damn story! This film is a conundrum, because it's very hard to tell whether it's making fun of pretentious movies or being pretentious itself. The presence of the whispering narrator gives you the sense of either an anthropologist hiding in underbrush spying on his subject or a director commentating on his film as it plays. The strangest thing about this film is that it knows it's a film, and its characters know that they're characters in a film. It's a really disorienting effect.
Emily Armstrong
Super Reviewer
2 ou 3 Choses que je Sais d'Elle (Two or Three Things I Know About Her) Quotes
There are no approved quotes yet for this movie.