Uncovered: The Whole Truth About the Iraq War
(2004)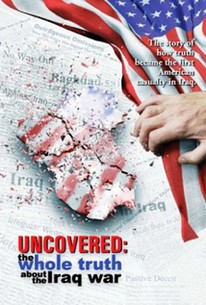 Uncovered: The Whole Truth About the Iraq War Photos
Movie Info
Robert Greenwald produces and directs the documentary Uncovered: The Truth About the Iraq War. In order to expose the Bush administration for misleading the public about the Iraq war, Greenwald presents the stories of informed political figures, scientists, and intelligence officers. Includes interviews with former CIA operative Robert Baer, magazine editor David Corn, and former ambassador Joe Wilson. Features interviews with over two dozen experts, including weapons inspectors Scott Ritter and David Albright. Following a series of screenings at public libraries, coffee shops, and university campuses across the U.S., Uncovered was distributed on DVD by Disinformation.
Critic Reviews for Uncovered: The Whole Truth About the Iraq War
All Critics (6) | Top Critics (1) | Fresh (6) | Rotten (0)
If at the end we find ourselves as Michael Douglas' character in Falling Down, at least we're there with the knowledge that we were right to be paranoid.
Less entertaining but more substantial than Michael Moore's Fahrenheit 9/11.
For a brief, artlessly spliced series of talking-head quotes, this documentary gives a remarkably thorough demolition of the Bush administration's concocted case against Iraq.
Audience Reviews for Uncovered: The Whole Truth About the Iraq War
What was Greenwald thinking with the 5-10 minute opening where he just introduces experts? There is some strong content, but the ending is also weakl. Not nearly as effective as other documentaries on Iraq.
Uncovered: The Whole Truth About the Iraq War Quotes
There are no approved quotes yet for this movie.