UNDEAD
(2005)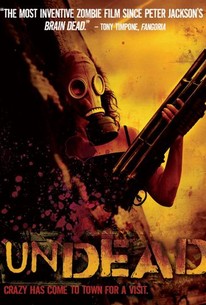 TOMATOMETER
AUDIENCE SCORE
Critic Consensus: This low-budget homage to the zombie genre borrows heavily from superior predecessors and revels in a pile of its own campiness -- neither original nor watchable enough to entertain.
Movie Info
When deadly meteorites start striking the calm, peaceful community of Berkeley, Australia, a ragtag group of strangers fight for their lives against a hoard of red-blooded zombies that have mysteriously infected the residents. Headed by the town's ex-beauty queen Rene (Felicity Mason) and the village kook, Marion (Mungo McKay), the clan of survivors battle their way through farmhouses, bomb shelters, and back roads until they are faced with a much bigger problem than just the gut-munchers on their trail. The debut feature of writer/directors Michael and Peter Spierig, the film was two and a half years in the making, echoing other no-budget splatter epics like Peter Jackson's Bad Taste and other similarly themed sci-fi horror romps. It went on to garner accolades from the Melbourne International Film Festival and the Catalonian International Film Festival, Sitges, Spain, among others. ~ Jeremy Wheeler, Rovi
People Who Like this movie also like
News & Interviews for UNDEAD
Critic Reviews for UNDEAD
Audience Reviews for UNDEAD
½
Probably the most bizarre and unpredictable Zombie movie ever! This low-budget Aussie effort starts off as an extremely gory and darkly comic "Shaun of the the Dead" type flick, then things get a little... weird! Too weird for me. But I enjoyed the first half of the film delivering some very good bloody action despite the low-budget.
½
Horror Not to Miss List Commentary:
This is one of my top indie zombie flix, and I prefer it better to its other Australian peer Braindead by Peter Jackson. Though some audience members are frustrated with the genre-blurring that occurs because the film-makers are looking to up the visual ante of their movie, and they are thusly accused of being Spielbergian because of some of their additional creatures design and action-based horror scenes. I think it's all done just right, including the occasionally stiff acting. There are so many innovative zombie scenes, my favorite being a pair of walking legs with accompanying spinal cord, sans a torso. The protagonists are given action-style cinematic hyping, but it's justified and cool, not unnecessary and forced. Here's a zombie movie that not only bothers with continuity and structure, but the independent film-makers, two brothers, behind it further proved their dedication to this project by doing all of the CGI themselves on a 700mhz processor computer, for three years after shooting concluded. These effects are on par, and in some cases better, to what big Hollywood bucks is turning out even years later. This is truly proof that auteurs are still alive and, beyond that, still bothering to work with a concept/genre considered exhausted like zombies. Overlooked by zombie fans and totally misunderstood by mainstream viewers.
_kelly .King
Super Reviewer
½
I think the goal of this movie is to make a campy throwback movie that evokes the movies that the Sperig brothers loved growing up. It's like an Australian equivalent of Slither. But with much less finesse. But what it lacks in elegance is makes up for in sheer exhuberance, gore and giddiness. The comparison to Brain Dead is apt: it makes as much sense and is as much fun to watch. Aliens, and zombies, and killer acid rain, and hicks who know some sort of upside-down shotgun karate. I enjoyed this movie, but it lacked the freshness and novelty that was so delightful about Jackson's film.
Emily Armstrong
Super Reviewer
UNDEAD Quotes
| | |
| --- | --- |
| Marion: | One day you're out on your boat and you get attacked by zombie fish, they munch at your face, like you're the main course at an all you can eat crazy country boy buffet. You walk away, tell the town your story; they think you're mad. Everyone thinks you're mad, you think I'm mad. It happens again, this time it's not zombie fish it's zombie Berkeley. But this time I'm prepared, I'm ready to fight whatever they can throw at me. Still i wasn't strong enough, the strongest ones are always the last ones left; if that's not me, it must be you. If that was the case you wouldn't have battled the undead and lived. You'd be the entree at a smorgasboard of brainfood. |
| Marion: | One day you're out on your boat and you get attacked by zombie fish, they munch at your face, like you're the main course at an all you can eat crazy country boy buffet. You walk away, tell the town your story; they think you're mad. Everyone thinks you're mad, you think I'm mad. It happens again, this time it's not zombie fish it's zombie Berkeley. But this time I'm prepared, I'm ready to fight whatever they can throw at me. Still I wasn't strong enough, the strongest ones are always the last ones left; if that's not me, it must be you. If that was the case you wouldn't have battled the undead and lived. You'd be the entree at a smorgasboard of brainfood. |
| | |
| --- | --- |
| Marion: | ...time is short. So you gotta ask yourself: Are you a fighter, Fish Queen, or are you zombie food? |
| Marion: | Time is short. So you gotta ask yourself: Are you a fighter, Fish Queen, or are you zombie food? |
| | |
| --- | --- |
| Harrison: | I'll fuckin' finish you off faster than a fuckin' birthday cake at a fat chick's fuckin' birthday party! |
| | |
| --- | --- |
| Harrison: | When I was a kid, we fuckin' respected our parents, we didn't fuckin' eat 'em! |