Under Siege 2: Dark Territory
(1995)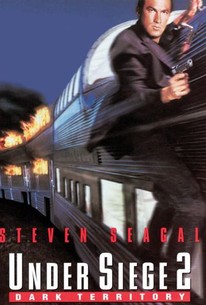 Under Siege 2: Dark Territory Videos
Under Siege 2: Dark Territory Photos
Movie Info
In this actioner, a CIA operative aboard a hijacked train is being held hostage by mercenary terrorists, led by strategic arms genius Travis Dane, who is threatening to blow up the world if he and his group do not receive a billion dollars. Dane has the technology to do it too, as just before he was fired from his government job he managed to launch a special satellite that can set off any of the world's nuclear missiles at Dane's command. Unbeknownst to the villain, the CIA-agent Casey Ryback--who had boarded the train with his adolescent niece to take her back to her father's funeral--is a far more formidable foe than Dane ever could have imagined. Even though 50 men oppose the hero, with his combination of brains, skill and luck, he manages to defeat them all, but not before plenty of action occurs aboard the speeding train.
Rating:
R
Genre:
Directed By:
Written By:
In Theaters:
On DVD:
Runtime:
Studio:
Warner Home Video
Critic Reviews for Under Siege 2: Dark Territory
Audience Reviews for Under Siege 2: Dark Territory
Sequel to Under Siege with Steven Seagal reprising his role as Casey Ryback moves the plot from a battleship to a train. With this second feature in the franchise, director Geoff Murphy wastes no time to jump right into the action. This film is pretty good for a Seagal vehicle and it should definitely appeal to action buffs. Like the first film, the strength of the film lies in a great villain. Acted by Eric Bogosian who plays a computer genius that highjack's a train and seeks to use a weapon's satellite for his own sinister means. His on-screen presence is wonderful and he provides Seagal with a great challenge in terms of a foe. If you're looking for a fun popcorn flick, then this is a must see film to watch. I enjoyed the sheer mindless fun of it all, and though not perfect, Under Siege 2 should appeal to fans of the first. There's nothing original here, but this is entertainment and it most definitely will thrill and suffice your action needs. While the first had Playboy Playmate Erika Elreniak as Seagal's sidekick, this one strips away the pitiful eye candy, and adds a bit more seriousness to the film's plot despite at times being a bit tongue in cheek. This is one of those rare sequels that is just as good as the original, and I find this one to be a bit underrated and it overcomes it flaws by being a fun, thrilling ride. This film isn't as bad as what everyone says, so if you're in the mood for mindless popcorn action, give this one a shot. At times cheesy, but with added menace, this is a very good sequel to the original Under Siege.
½
A weak excuse for a sequel, on from Seagal's best, but we can forget this movie, can't we?
Scott Green
Super Reviewer
Geoff Murphy's directing credits may not look all that impressive, but Under Siege 2: Dark Territory is a pretty good action thriller.
This movie does serve as a sequel to Under Siege, but the story stands alone and this makes this picture completely watchable without having seen the first.
A bunch of terrorists want money, so they hijack a train and setup some fancy equipment to cause mass destruction around the globe. Luckily, Casey F****** Ryback is here to save the day.
Most of this 90+ minute film takes place on a train and it does serve as a nice setting for a hostage rescue situation. The action is a plenty and this is all that is expected with the usual shootings, beatings, explosions, and a decent knife fight near the end.
Steven Seagal is Steven Seagal. Katherine Heigl is beautiful. Morris Chestnut is partially entertaining and partially annoying. As for the villains, they are the stars of the show. Eric Bogosian is a delight to watch as the clever Travis Dane and Everett McGill makes a good foe for Steven Seagal.
There is nothing out of the ordinary with Under Siege 2: Dark Territory, but it is an entertaining film for those that want to see Seagal whooping some butt. "Chance favors the prepared mind."
Discussion Forum
Discuss Under Siege 2: Dark Territory on our Movie forum!