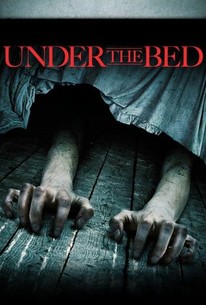 Under the Bed
2012, Horror, 1h 28m
10 Reviews
500+ Ratings
Rate And Review
Movie Info
Two brothers (Jonny Weston, Gattlin Griffith) join forces to protect themselves and the rest of their family from a monster.
Audience Reviews for Under the Bed
I watch mostly independent horror films, because when it comes to this genre, Hollywood is just too afraid to try anything different. When you see a horror film in theaters, it seems like all you get is either a slasher film with a ton of blood, a serial killer movie with lots of gore, or a supernatural thriller with nothing but jump scares. Real horror is supposed to be scary and is supposed to be something that sticks with you, but it's rare that a film can do that anymore, and Under The Bed is no exception. I can sum up this film by simply saying it's an hour of goosebumps, ten minutes of ridiculously over the top gore, and a whole five minutes of stranger things, thrown in at the end, for an attempt at originality. Not only was this a horror movie that I would call boring, but the cast was just plain annoying and written to be beyond stupid. If not for the writers love of the F word, combined with the last fifteen minutes of the film, Under The Bed could literally have been a Goosebump. Jonny Weston stars, and the future Project Almanac star, really was the only bright spot. This was one of his first films, but he at least has a clue as to how to live in the moment and build up the intensity. Weston's character had an interesting background and even a couple of funny one-liners, aside from that, this film has absolutely nothing. For those of us who love independent films, we are always taking a risk, knowing that a lot of times we're seeing newcomers. A lot of these films are something different, new, and refreshing, but other times they reek of inexperience and are completely lacking in originality. Under The Bed is yet another example of the latter.

Was this ever bad... The acting and dialogue are beyond atrocious, it made me cringe everytime these actors opened their mouth. I actually felt embarassed for them. Wouldn't be a problem if the movie wasn't such a drag that doesn't go anywhere, featuring a bland monster that feeds on dead tissue (???), hides under a bed and also behind a shit ton of plot holes and inconsistencies that make little sense in the end. There's some solid deaths in the end but the set up is so stupid they become quickly laughable. "RUUUUUUUUUUUUNNNNNNNNNNNN!!!!!" - dad with male boobs so so bad...
See Details