Under the Bed
(2013)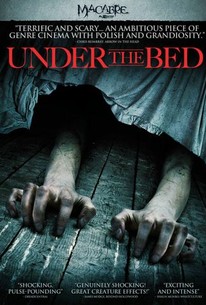 Movie Info
Every child knows about the monster under the bed-Neal Hausman's mistake was trying to fight it. Neal (Jonny Weston, Chasing Mavericks) has returned from a two-year exile following his tragic attempt to defeat the monster, only to find his father ticking ever closer to a breakdown, a new stepmother who fears him, and his little brother Paul (Gattlin Griffith, Green Lantern, Changeling), terrorized by the same monster. While Neal and Paul work together to try and fight the nocturnal menace, their parents are taking desperate measures to get the family back to normal. With no support from their parents, the brothers have nothing to rely on but each other, and courage beyond belief.(c) XLRator
Critic Reviews for Under the Bed
Audience Reviews for Under the Bed
Was this ever bad... The acting and dialogue are beyond atrocious, it made me cringe everytime these actors opened their mouth. I actually felt embarassed for them. Wouldn't be a problem if the movie wasn't such a drag that doesn't go anywhere, featuring a bland monster that feeds on dead tissue (???), hides under a bed and also behind a shit ton of plot holes and inconsistencies that make little sense in the end. There's some solid deaths in the end but the set up is so stupid they become quickly laughable. "RUUUUUUUUUUUUNNNNNNNNNNNN!!!!!" - dad with male boobs so so bad...
Francisco Godinho
Super Reviewer
Under the Bed Quotes
There are no approved quotes yet for this movie.