Sous les Bombes (Under the Bombs)
(2007)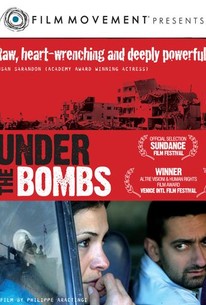 AUDIENCE SCORE
Critic Consensus: No consensus yet.
Sous les Bombes (Under the Bombs) Photos
Movie Info
A divorced Shiite mother and a kindly Christian taxi driver venture into war-torn Lebanon on a desperate quest to locate the woman's missing six-year-old son. Zeina (Nada Abou Farhat) is an upper-class mother who was going through a divorce when she sent her son Karim to live with his aunt in the small village of Kherbet Selem, just south of Lebanon. Having sent Karim away to spare him the pain of watching his parents separate, Zeina is horrified to discover that war has broken out in Lebanon and now her child is nowhere to be found. Zeina knows that the only way to reach Lebanon is through Turkey, but her desperate trip to the port of Beirut is unexpectedly hindered by the blockade. On the day of the ceasefire, Zelna finally arrives at the port of Beirut. Though the vast majority of local taxi drivers prove reluctant make the dangerous journey south, amiable cabbie Tony sympathizes with the desperate mother and bravely agrees to act as her escort. Upon arriving in Kherbet Selem, Zeina is informed by a young boy that her sister was killed and French journalists have taken Karim away. Now, as every hour of Zeina's search becomes a monumental struggle, the Shiite mother and the Christian cab driver discover just how futile religious differences truly are when a child's life is on the line.
Critic Reviews for Sous les Bombes (Under the Bombs)
All Critics (4) | Top Critics (2) | Fresh (4) | Rotten (0) | DVD (1)
In extraordinary circumstances with quasi-documentary style, two genuine individuals search through powerful images of a country torn apart by religion, politics and war.
Most war movies don't cover this painful subject, the loss of the innocents, but this film does. Attention must be paid.
Audience Reviews for Sous les Bombes (Under the Bombs)
In 2006, in response to Hezbollah's rockets, Israel bombards Lebanon for 33 days. On the 34th day, a United Nations negotiated ceasefire is put into effect, giving Zeina(Nada Abou Farhat) an opportunity to enter Lebanon from Dubai by way of Turkey to look for her sister and son. At the taxi stand in Beirut, most drivers seem more interested in driving refugees to Damascus, instead of south into the heart of the war zone where Zeina wants to go. Only Tony(Georges Khabbaz) has the balls to take her there for $300, saying how could he refuse such beautiful eyes... Lebanon, which is the setting for the harrowing and riveting "Under the Bombs," is often in the middle of wars, not to mention its own bloody civil war. So, forget the sides. Forget Israel. Forget Hezbollah. This movie is about characters who navigate through a devastated wasteland that occasionally obstructs them in a country whose hidden beauty peeks through occasionally. Even though they are going to the same place in a race against time because of how fragile the peace is, their motives are different as are where they want to eventually end up. So, just remember those who are caught in the crossfire of war.
½
Daring 'live' approach scores for originality but lacks in execution, its hasty improvisations obvious.
Gordon Anderson
Super Reviewer
Sous les Bombes (Under the Bombs) Quotes
There are no approved quotes yet for this movie.