Undertow
(2010)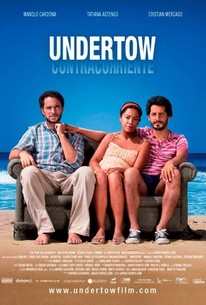 Movie Info
A man struggles to come to terms with the unexpected consequences of a secret love in this drama from director Javier Fuentes-Len. Miguel (Cristian Mercado) supports himself and his family as a fisherman in a small town on the coast of Peru. Miguel is happily married to Mariela (Tatiana Astengo), who is pregnant with their first child, and the couple are well respected in their community and active in the local church. But there's a side of Miguel that he keeps hidden from most people -- Miguel is also in love with Santiago (Manolo Cardona), an artist who is spending time in the village, and the two have secretly been having an affair. Santiago drowns one evening while swimming, and his ghost visits Miguel, telling him that his spirit will not know peace until Miguel finds the courage to tell the community about their love. While some suspect Miguel is hiding something when nude paintings of him are found in Santiago's home, Miguel isn't sure where to find the courage to confess his bisexuality to his wife and neighbors. Undertow (aka Contracorriente) was an official selection in World Cinema program the 2010 Sundance Film Festival, where it received the Audience Award for Best World Dramatic Feature. ~ Mark Deming, Rovi
News & Interviews for Undertow
Critic Reviews for Undertow
Audience Reviews for Undertow
In the beginning, there is the belly, of very, very pregnant Mariela(Tatiana Astengo) who is enjoying some down time with her husband Miguel(Christian Mercado). That is interrupted by his cousin Tano(Juan Pablo Olivos) who wants him to preside over his brother's burial at sea, per local custom. Otherwise, life goes on in his fishing village where Santiago(Manolo Cardona), a handsome artist, has taken up residence and is having a torrid secret affair with Miguel. Santiago also takes the time to buy Mariela a candle at the market. So, when Santiago shows up unannounced in his house one morning, Miguel is angry but it is nowhere near close to what he is thinking... "Undertow" has some beautiful footage, a neat premise and respect for local traditions. But the movie suffers from a near fatal case of indecision that leads to a slow pace that cannot be explained away by the leisurely rhythm of life in this village. The movie would want us to believe the indecision is due to Miguel not being able to make up his mind who to be with, but I have no problem with bisexuality. Admittedly, if he had acted decisively at one point about something else, it would have saved him a lot of trouble down the line. Rather, it is the story that has little direction after the plot kicks in, with the movie eventually just coming to a halt.
At face value, this is a good film. Great cast, believable dialog, location that is intriguing but not distracting. It's not until you start to dig a little deeper and really think about all of the symbolism and emotions (both spoken and unspoken), that you start to realize what a beautiful and heartbreaking love story it is.
This unexpectedly lovely film from Peru is a sweet surprise. A gentle kind-of coming out story set in a Peruvian fishing village, it is also as tender as it is straight-forward, even when delving into a bit of magical realism territory. It's the story of a married fisherman in what seems like a perfectly happy marriage who is also deeply involved with a painter on the side. To give too much away would be robbing this simple story of some of its surprise, but suffice to say it's about a guy who has no intention of coming out and finds out life has other things in mind for him. Though some of the storytelling is a little on the blunt side, there is so much gentleness to the delivery of the story that it doesn't matter in the least. Beautifully acted by its three leads, it's a sweet surprise and should've gotten noticed by more people. Check it out!
Jeff Talbott
Super Reviewer
Undertow Quotes
| | |
| --- | --- |
| Santiago: | "Sorry," Santiago says, "but if you think of me, I show up." |
| Santiago: | Sorry, but if you think of me, I show up. |