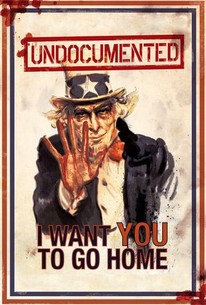 Undocumented
2010, Horror, 1h 32m
2 Reviews
100+ Ratings
Where to watch
Rent/buy
Rent/buy
Rate And Review
Movie Info
A documentary film crew runs afoul of sadistic radicals when they follow illegal immigrants sneaking over the U.S. border.
Audience Reviews for Undocumented
This film really surprised me, because I usually hate these found footage films. Aside from the nausea, caused by the constant movement of the camera, I find that these films not only lack a budget, but also a decent story and cast. Undocumented was different though, as it was a novel idea with some fairly stable camera work. The story focuses on a group of college kids, making a documentary about illegal aliens, and how they cross into the United States. The group join a coyote for a run across the boarder when they are unexpectedly capture. Unfortunately for them, their captors aren't the police, but rather a group of self-proclaimed patriots, who abuse the illegal immigrants for their sick pleasure. We see a lot of films about how and why people cross the boarder and even a lot about what the police and government are doing about it, but I can't ever remember seeing a film about these vigilante groups, that do exist, and pray on illegals. Prison Break's Pete Stormare stars as Z, the leader of the rebel group and he basically makes the movie. This guy usually plays a gangster or inmate in the background of some random film or TV show, but he's never really the star, and it's a shame because he makes this movie. Z is such a deep character, who is brilliant yet deranged at the same time, a man who is as compassionate as he is brutal, it was really something to see. He's paired with a young cast of teen actors, who have been around for years, and who do a terrific job in support of his performance. This film isn't listed as a horror film, but it is pretty brutal and bloody, meaning you shouldn't watch it if you have a weak stomach. For me, it was an interesting take on an aspect of immigration that is rarely seen or talked about. The performances were impressive, the characters were deep, and the film never stops moving. I enjoyed the fact that this unique film really didn't have any big named stars in it and even though it had a shoe-string budget, the producers really made it work.

<i>"Whatever you think is going on here, this is worse."</i> A documentary crew accompany a group of illegal immigrants crossing the Border, but their plans run afoul when they are captured by a gang of sadistic radicals in New Mexico. <center><font size=+2 face="Century Schoolbook"><b><u>REVIEW</u></b></font></center> 'Undocumented' follows a documentary crew who is attached to a group of Mexican immigrants who have paid enormous sums of money to a coyote (not the cat-snatching mongrel, rather a smuggler of people) to get into the United States. Illegally, in case you weren't getting the point. The irony is that legal entrance to the United States is cheaper and safer, if safety is part of the calculation - but that's politics, and a hard topic to rationally discuss in Texas, California, or Arizona. Incredibly the creators of 'Undocumented' use blood and abject terror to drive the discourse in a way that TV's Border Wars simply cannot. And no matter what side you sit on the political spectrum, you will think about the subject matter. The cast does exceptional and memorable work: Liz, the high-minded liberal producer (Alona Tal, of lots o' TV and voice-overs since 2003); her erstwhile boyfriend and the project's journo-opportunistic director, Travis (Scott Mechlowicz, of 'Eurotrip'); the Mexican émigré cousin, Alberto (the more-than-credible Yancey Arias) of one of the crew, Davie (Greg Serano, with a solid TV CV); and drug-using sound guy smart ass, Jim (Alias' Kevin Weisman). Even the narratively expendable characters turn negligible "raw meat" roles into loss. The tragic chorus of ill-fated illegal aliens are authentic and utterly haunting, as if director Chris Peckover actually captured and tortured them. (He didn't. Right?) The film treads the kind of suggested territory that franchise torture porn such as Hostel and Saw is awkwardly compelled to throw at the audience in explicit, anatomically-correct splatter. The argument that such franchises are simply satire is lost: 'Undocumented' is pure and sophisticated satire that teases the sensibilities of the viewer without abusing them into disaffection. You care. And stranger still, your perspective - your "side" - is apt to vacillate. It's a "hard" movie. I could go on and on: I can't stop thinking about this film. I was on the edge of my seat early on, and gripped until the very end. It's a brilliant effort that touches nerves you may not even know you have. The closing shot and speech, the first reveal of the masked radicals, the enigmatic "Z" and the breadth of the cabal is unforgettable - cinema gold.
See Details