Val Lewton: The Man in the Shadows
(2007)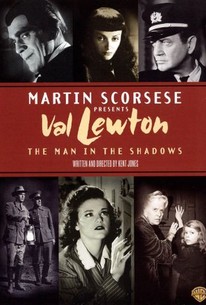 Movie Info
While his name was known to only the most obsessive film fans during the course of his career, Val Lewton produced a handful of low-budget horror movies in the 1940's that had a revolutionary impact on the genre. Working within a special production unit at RKO Pictures, Lewton's films were mood pieces that created an atmosphere of anxiety rather than aiming for blunt shocks, and used shadowy camerawork and careful pacing to infer more than the audience actually saw. Several of Lewton's productions became minor hits, most notably Cat People, and a number of others (including Isle Of The Dead, I Walked With A Zombie, Curse Of The Cat People, The Seventh Victim and The Body Snatchers) are cult favorites to this day. Lewton also discovered a number of directors who would become major players later on, including Robert Wise, Mark Robson and Jacques Tourneur, but Lewton's efforts to move on to bigger budget projects fared poorly, and poor health claimed his life in 1951, six years after his last picture for RKO. Film critic and archivist Kent Jones traces the story of Val Lewton's life and career while paying homage to the films that made his name in the documentary Val Lewton: Man In The Shadows, which features highlights from Lewton's best films while sharing the memories of those who knew and worked with him. Originally produced for the Turner Classic Movies cable network, Val Lewton: Man In the Shadows is narrated by filmmaker and lifelong film fan Martin Scorsese.
Critic Reviews for Val Lewton: The Man in the Shadows
Audience Reviews for Val Lewton: The Man in the Shadows
Overview of the career of the legendary producer who reluctantly made some of most poetic horror movies of the 1940s for RKO. Those who are already fans will appreciate the review and the bits of trivia, and newcomers may be inspired to check out hidden classics like CAT PEOPLE and THE BODY SNATCHER.
Val Lewton: The Man in the Shadows Quotes
There are no approved quotes yet for this movie.