Valerian and the City of a Thousand Planets
(2017)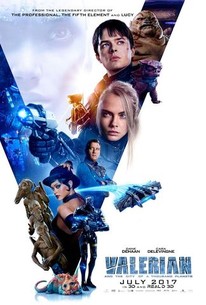 TOMATOMETER
AUDIENCE SCORE
Critic Consensus: Valerian and the City of a Thousand Planets uses sheer kinetic energy and visual thrills to overcome narrative obstacles and offer a viewing experience whose surreal pleasures often outweigh its flaws.
Valerian and the City of a Thousand Planets Videos
Valerian and the City of a Thousand Planets Photos
Movie Info
VALERIAN AND THE CITY OF A THOUSAND PLANETS is the visually spectacular new adventure film from Luc Besson, the legendary director of The Professional, The Fifth Element and Lucy, based on the ground-breaking comic book series which inspired a generation of artists, writers and filmmakers. In the 28th century, Valerian (Dane DeHaan) and Laureline (Cara Delevingne) are a team of special operatives charged with maintaining order throughout the human territories. Under assignment from the Minister of Defense, the two embark on a mission to the astonishing city of Alpha-an ever-expanding metropolis where species from all over the universe have converged over centuries to share knowledge, intelligence and cultures with each other. There is a mystery at the center of Alpha, a dark force which threatens the peaceful existence of the City of a Thousand Planets, and Valerian and Laureline must race to identify the marauding menace and safeguard not just Alpha, but the future of the universe.
News & Interviews for Valerian and the City of a Thousand Planets
Critic Reviews for Valerian and the City of a Thousand Planets
Audience Reviews for Valerian and the City of a Thousand Planets
Luc Besson goes style over substance in Valerian and the City of a Thousand Planets. Blasting in well over 2 hours, the film meanders around from start to finish. Feeling a little scattered at times, the plot details avoid explanation for elements that scream attention or exploration, while explaining things that don't need much explanation to begin with. With that said, it's difficult to get lost and there is enough story to keep things together. The opening scenes alone are visually stunning and the eye candy continues throughout. Valerian and the City of a Thousand Planets definitely has meat on the bone, but with such heavy reliance on CG, there isn't enough to keep up with the visuals. Dane DeHaan and Cara Delevingne display good chemistry together, but both lack the extra charisma to explode off the screen. The rest of the cast fall into the background or lack sufficient screen time to stand out. Valerian and the City of a Thousand Planets excels in some departments while holding back in others. All in all, there's enough for a trek through the city.
½
The first five minutes of this Sci-Fi adventure are genius,establishing the setting we are taken to for over two hours. After that, things get pretty trippy. You can tell Besson was already responsible for The 5th Element, there are story elements (heh) from it here as well, the production design is similar at times, but infinitely bigger here. There are so many creatures to see, it's awe-inspiring, although some look more convincing than others. Overall, this is a fun adventure, although the two main characters are a bit too stubborn and arrogant to relate to them immediately. The story turns out to be decent enough and you have to admire how many ideas went into this imaginative ride. Worth seeing on the big screen.
Crazy is the best way to describe Valerian and the City of a Thousand Planets, but not in a good way. Director Luc Besson has been all over the map in terms of quality throughout his career. From directing interesting Sci-Fi films like The Fifth Element or being at the helm of classics like Léon: The Professional, I had my hopes up for this film, even though it felt a little off from the very beginning. Yes this film boasts incredible visuals like everyone seems to be raving about, but the premise itself is bloated beyond belief and the dialogue is some of the worst you will hear all year. It's not that I came out of Valerian and the City of a Thousand Planets hating it, but I was much more annoyed than anything. Here is why this film is a disappointing showcase of promises. When this film opens, promise fills the screen to no end. Feeling very reminiscent of Avatar, you meet another race, speaking a different language and it seems as though this movie will have a few deeper elements, but then you flash to the two main characters in Valerian and Laureline. Right off the bat, something felt very off about these characters and how they were interacting with each other. About 20 minutes in, their dialogue became almost unbearable and I couldn't wait for the film to cut away to show more of its breathtaking visuals. If you're going to see this film, the visuals alone should hold your attention, because they're some of the best you'll probably witness all year, it's just sad that they couldn't have been a part of a more cohesive story and not something as tedious and drawn out as Valerian and the City of a Thousand Planets is at nearly 140 minutes. There is a premise that sets up the film, don't get me wrong, but I'm not going to dive into too much detail in regards to what the plot consists of, because this review will be never-ending. This film feels like a series of events that would be played out in a video game. As soon as a character completes a mission, another one arises, and as soon as a conflict presents itself, the movie cuts away to an exposition scene in order to explain how the main characters can save themselves from peril. Yes, this is a wonderful film to gawk at, but I found myself wanting to solely do that throughout the entire duration, because the plot lost me on multiple occasions and the characters were given some of the most atrociously bad dialogue I've heard in a big budgeted film in quite some time. Once again, it's hard to put too much hate on a film that clearly tries its hardest to dazzle its fans, but the elephant in the room here is clearly the script. We live in a world now where we've practically seen every story there is to tell in filmmaking. It all depends on if the variation of what you're telling works as something fresh and new, and as "try-hard" as Valerian and the City of a Thousand Planets is, when a character shots out dialogue that's not funny, even though it's meant for a laugh, or when a character feels the need to voice what is happening on-screen, even though viewers can already see what's happened, you've failed on multiple fronts. Good visuals do not make a good movie, but they can save your film from being unwatchable. In the end, there's no possible way that I'll be able to recommend this film to anyone, especially in theatres. That's a sad notion, because this is an original film and people alswys complain about nobody flocking out to support original properties, but I have to call it as it is. I definitely recommend watching this film on the highest quality television that's at your disposal upon its home video release, because the visuals alone are worth a look. This is a bright and exciting world to check out, but it's the substance and dialogue throughout that make it a complete mess of a movie. As soon as I was beginning to find aspects interesting, I would find myself lost in space (meaning daydreaming). Valerian and the City of a Thousand Planets is impressive to look at, but the movie itself is pretty bad as a whole. It's well-directed for the most part, Dane DeHaan and Cara Delevingne are serviceable in their respective roles, and the score was done surprisingly well, but that's where my praise ends. Even for the low standards I had, this film was disappointing.
Valerian and the City of a Thousand Planets Quotes
There are no approved quotes yet for this movie.
Discussion Forum
Discuss Valerian and the City of a Thousand Planets on our Movie forum!