Valerie and Her Week of Wonders
(1970)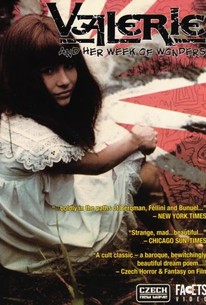 Movie Info
In this surreal psychological fantasy, young Valerie lives with her grandmother. She feels the first stirring of sexual awareness when a carnival parade comes to town and a man presents her with a pair of magic earrings. When her fantasy adventures begin, the line between dreams and reality is blurred.
Critic Reviews for Valerie and Her Week of Wonders
Audience Reviews for Valerie and Her Week of Wonders
½
The symbolism is a bit too obvious and calculated, with not much room for subtlety and being a tad sloppy towards the end, but this impressive film relies on an efficient surreal atmosphere like Alice in Wonderland in a Czech sociopolitical context.
Carlos Magalhães
Super Reviewer
½
Well that was... interesting. I'm still not sure what to make of this movie. Valerie goes through a series of insanity from one day to the next. There are carnivals, weddings, her gradmother's death, her vampire cousin, her weird brother, and that priest/monster/devil guy. I really didn't know what to make of the end. Not bad, exactly, but it's a whirlwind of interesting crazy stuff going on.
On the day she gets her period, a young girl's life turns into a strange dream of lusty priests and vampire infestations. This surreal fairy tale exploring juvenile fears of predatory adults and the scary world of sex was a late bloomer in the Czech New Wave, but stands as one of the most fascinating relics of the movement.
Valerie and Her Week of Wonders Quotes
There are no approved quotes yet for this movie.