Valley of the Dolls
(1967)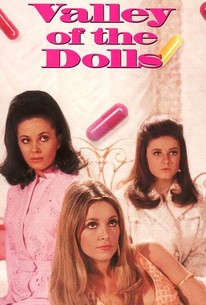 Valley of the Dolls Photos
Movie Info
A cinematic take on a 1960s best-seller, Valley of the Dolls traces the ups and downs of three young women as fame, booze, pills, and men consume their lives. Well-bred, small-town Anne Welles (Peyton Place star Barbara Parkins) arrives in New York eager for fame but settles for a job assisting theatrical attorney Henry Bellamy (Robert H. Harris). The job leads her to cross paths with Helen Lawson (Hollywood veteran Susan Hayward), the grand dame of Broadway musicals, and Neely O'Hara (sitcom star Patty Duke), an up-and-coming performer whom Lawson unceremoniously boots from her latest show. Neely lands on her feet thanks to a series of nightclub gigs, and soon she and Anne befriend Jennifer North (Sharon Tate), a buxom starlet. As Neely becomes a huge star of stage and screen and Jennifer appears topless in a string of European "art" films, Anne becomes a wealthy cosmetics spokeswoman and suffers though a passionate but failed affair with aspiring writer Lyon Burke (Paul Burke). As the pressures of fame and failed romance take their toll on all three women, they take refuge in food, sex, liquor, and pills -- especially Neely, who becomes downright monstrous (the titular "dolls" are the uppers and downers to which she becomes hopelessly addicted). Although the film's characters are fictitious composites, Neely most closely resembles Judy Garland; Garland herself was originally cast as Lawson, but she was replaced after only a few days by Hayward. Although the film's trailer played up the story's titillating subject matter, the script for Valley of the Dolls actually toned down Jacqueline Susann's novel. And despite the fact that Dionne Warwick can be heard singing "(Theme From) The Valley of the Dolls" twice during the film, contractual snags kept her from releasing the soundtrack version; a different arrangement later became a number two pop hit in 1968. ~ Brian J. Dillard, Rovi
News & Interviews for Valley of the Dolls
Critic Reviews for Valley of the Dolls
Audience Reviews for Valley of the Dolls
½
A terrible film that feels tremendously dated today, as I imagine it did just as well back in the 1960s (although obviously not from a thematic point of view), like a mawkish vintage soap opera that is not ashamed of its laughable dialogue and absurd situations.
Carlos Magalhães
Super Reviewer
A fairly good take at the life of the 60s but I didn't care for it very much.
Cassie Hill
Super Reviewer
Valley of the Dolls follows the lives of three young women as they struggle to succeed in the cutthroat world of show business. Along the way they contend with drug abuse, alcoholism, adultery, abortion, Huntington's disease, suicide and Susan Hayward. In 1967 it's racy, risqué and controversial. In 2011 it seems exaggerated, sensationalized and preachy.
Randy Tippy
Super Reviewer
Valley of the Dolls Quotes
| | |
| --- | --- |
| Neely O'Hara: | Goodbye, Pussycat. Meow. |
| | |
| --- | --- |
| Helen Lawson: | Broadway doesn't go for booze and dope. |
| | |
| --- | --- |
| Ted Casablanca: | She may be a little whore, but she makes me feel 9 feet tall... |
| Ted Casablanca: | She may be a little whore, but she makes me feel 9 feet tall. |
| | |
| --- | --- |
| Neely O'Hara: | Nudies, that's all they are--Nudies! |