Van Diemen's Land
(2009)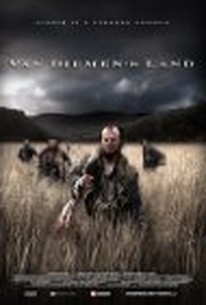 Movie Info
The true story of Alexander Pearce (Oscar Redding), the notorious Australian convict who, along with seven other prisoners, made a daring escape from the Macquarie Harbour penal colony in 1822, and embarked on a treacherous journey across Tasmania in a desperate bid for freedom. The further the group ventures into unknown territory with veteran navigator Robert Greenhill as their guide, the faster their resources dwindle until they begin turning on one another in order to survive. ~ Jason Buchanan, Rovi
Critic Reviews for Van Diemen's Land
Audience Reviews for Van Diemen's Land
½
I saw this at the Cleveland International Film Fest. This movie was fairly sickening to the stomach with its use of cannibalism. One time you see one of the escaped convicts try to hunt for some animal in the brush. During one other meal you see some leaves being boiled. Otherwise, after their bread rations are gone it is suggested that the only way they can survive is to resort to killing off each member of the group every couple days. COME ON!! So, they don't have guns to shoot down birds, but they wade across several rivers and streams and never try to eat a fish. It is unbelievable that there appears to be no animal life in all these forests. They could make more of an effort to hunt even small critters or figure out which plants are not poisonous. The poster I had seen, not the one attached here on Flixster, and the picture in the catalog for the Cleveland Film Fest led me to think the lead character was a different actor. It took a while to sort out and recognize all eight escaped men. So, I was surprised when I figured out who Alexander Pearce was. The narrator's first statement is, "I'm a quiet man." Out of the group he didn't stand out much. Because he is portrayed as being quiet and reluctant to give into the animal urges to kill to survive he is the one the audience wants to see make it to the end. I wonder how historically accurate Pearce's character is here, or if the filmmakers are trying to offer a different view on purpose. The Australian wilderness is harsh but still beautiful at times despite seeming endless. The eight men are of English and Irish descent and so are at each others throats, which adds an interesting dynamic. Even though the movie takes you on a hopeless descent it is hard to look away.
Byron Brubaker
Super Reviewer
The film's main theme that is explored throughout was cannibalism, and yet it does not contain exploitative blood and brutal mutilations, whether it was budget restraint or style, it is much more effective and proved once again that "less is more". The Tasmainian wilderness colors was played between the hues of black, gray and brown, allegorically representing a never-ending limbo, a place where the convicts found their inner hell. "Van Diemen's Land" was built mainly in silence, the rest of the scenes was either sounded by the rush of the waters or the cries of anguish. Near the end, there were almost no dialogue uttered, and there were instead long shots of scenes of nothingness and despair, and a climax that leads to a hollow nowhere in the corners of humanity, as Alexander Pearce's sanity, after the contemplative chaos that they've waged against each other, snapped under terrible, and distorted reality. The director, Jonathan Auf Der Heide, played ironic wonders between the tranquility of the wild, and the inner screams of survival, which led to an exposition of the darkness of the human soul.
Ivan Descartin
Super Reviewer
Beautifully shot, but rather underwhelming. I'm surprised that the sense of paranoia wasn't played up more in the film.
Robert Fearon
Super Reviewer
Van Diemen's Land Quotes
There are no approved quotes yet for this movie.
Discussion Forum
Discuss Van Diemen's Land on our Movie forum!