Vanaja
(2006)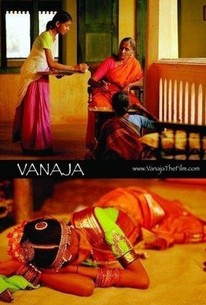 Movie Info
Vanaja is fifteen, beautiful and far too impulsive for her own good. In a seaside village in India's Andhra Pradesh state, trouble will find a girl like this and Vanaja meets trouble halfway. Ambitious to a fault, Vanaja talks her way into the household of Mrs. Rama Devi, the landlady who rules over the entire village. Rama Devi is a past master of kuchipudi, a South Indian narrative dance usually reserved for highcaste Brahmins. Despite her social position, Vanaja is desperate to learn. She insinuates herself into the mistress's favor, but is undone when Shekhar returns to the household. He is the mistress's son, and reckless when it comes to women. He takes advantage of Vanaja, leaving her pregnant. But Rama Devi is grooming her son for political office and will not abide a child born out of wedlock to a low-caste village girl.
Critic Reviews for Vanaja
Audience Reviews for Vanaja
½
Many Bollywood films are obsessed with material dreams, often depicting how a lower caste/class girl can find romance and fortune within the security of the lighter-skinned wealthy castes. This superb production undoes such a stereotype. Material ambitions can only prove devastating to a dark-skinned 15 year-old adolescent who wishes to exceed her fate, although all long within her soul there remains, as well, a sense of grace. Vanaja is directed with restraint by Rajnesh Domalpalli. It is an illuminating Hindi film and a credit to the fine arts program at Columbia University, which sponsored this project.
Cynthia S.
Super Reviewer
A heartrending story plot that centralizes on a young fifteen year old girl who dreams of becoming a dancer someday. In order to provide, and pay her father's debt, Vanaja works in the home of Rama Devi. It is there that she helps with the household chores, and takes dancing lessons. Soon after, Rama Devi's son Shekhar returns. Headstrong and outspoken, Vanaja suffers a horrific deal that ultimately changes her life. Mamatha Bhukya, Urmila Dammannagari, Karan Singh, and Ramachandriah Marikanti stars. Worthy!
Vanaja Quotes
There are no approved quotes yet for this movie.