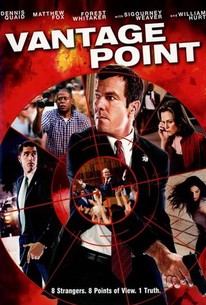 Vantage Point
2008, Mystery & thriller/Action, 1h 29m
158 Reviews
250,000+ Ratings
What to know
Critics Consensus
Vantage Point has an interesting premise that is completely undermined by fractured storytelling and wooden performances. Read critic reviews
Where to watch
Rent/buy
Rent/buy
Rate And Review
Movie Info
Witnesses with different points of view try to unravel an assassination attempt on the U.S. president. Special Agents Thomas Barnes (Dennis Quaid) and Kent Taylor (Matthew Fox) are assigned to protect President Ashton during a summit in Spain on the war on terror. Moments after the leader's arrival, shots ring out, and Ashton is down. In the resulting chaos, an American tourist (Forest Whitaker) comes forward with his camcorder, which he believes contains an image of the shooter.
Rating: PG-13 (Intense Violence and Action|Brief Strong Language|Some Disturbing Images)

Genre: Mystery & thriller, Action

Original Language: English

Director: Pete Travis

Producer: Neal H. Moritz

Writer: Barry Levy

Release Date (Theaters): wide

Release Date (Streaming):

Box Office (Gross USA): $72.3M

Runtime:

Distributor: Columbia, Sony Pictures Entertainment

Sound Mix: Dolby SRD, DTS, SDDS

Aspect Ratio: Scope (2.35:1)
News & Interviews for Vantage Point
Audience Reviews for Vantage Point
I have no fucking clue why, but I've wanted to see this movie for the longest time. Perhaps not the longest time, but this supermarket I used to go to had this DVD for, like, $5 for a time and I actually wanted to get it. I mean, it's $5, there's no real risk. The worst thing that could happen is that I think this is a dreadful movie but, since I spent $5 on it, it's not like it's any real loss. Thankfully, though, I didn't ever take the plunge and buy the DVD. Netflix backed me up. Moving on, though, part of me often wonders what I would do if I were a secret service agent in charge of protecting the president of the United States. I would probably resign if I had to protect the current president. I dislike that man so much that I would not be able to do my job properly and, if someone came up to shoot him, I'd just step aside and let it happen. That may sound callous, but the damage this man doing and the effect his party's healthcare plan (if it passes) is gonna have on people, to me, makes this a fair trade. So fucking sue me. But I digress, the concept of this film is certainly interesting. I'm not gonna say it's super unique, since it's not, but I do like the approach of telling the story of this terrorist attack and everything that led up to it from the perspective of six different people. Some are, as I mentioned, told from the perspective of a secret service agent, who's dealing with some PTSD from an incident a year prior to the summit in Spain. The president is one of t I'm not gonna go over everyone who's viewpoint you get to see, because I'll be here forever, but everyone who's relevant in one way or another to the shooting, bombing and abduction of the president is showcased. Having said that, I think the story being structured this way brings a few issues. This is a problem in that I think the movie jumping from vantage point to vantage point as the most inopportune times, like whenever there's a big revelation and they just cut away before showing you what it is. I think that hurts the pacing, because then they go back to 23 minutes prior to the attack each time and you're like 'ok, here we go again'. And I get why they did it this way, I totally get it. That way all of these characters and their stories converge at the same time and you finally get the conclusion you've been waiting for. But, and I must say this again, part of me can't get over the fact how that sort of killed the pacing to me. Killed it is too strong of a word, it hurt the pacing more than killed it. While I wouldn't say the movie was good, since its plot is a little too convoluted for my tastes with the whole misdirection involving the explosion at the summit, I found the whole thing exciting to watch. If there's one thing you can say about this movie it is never boring. While I already mentioned the issues I had with the structure, in a way, I feel it also benefits the film. I know I said it hurt the pacing, but what I mean by that is being invested in finding out what's going on only for them to pull the rug from under you. In terms of how the film flows, going from viewpoint to viewpoint keeps the film exciting and fast paced. The narrative isn't outstanding, but it certainly gets the job done in keeping you invested and interested in what is going on. There's a good amount of action as well and it's fairly decent and well put together. They're not winning any awards for best action film, but it's serviceable enough. I don't know what else to say, really. I guess I hated the fact that the villains were the stereotypical evil foreigner (plus one American) that felt outdated even in 2008, when this film came out. So you can imagine how behind the times this felt in 2017. This movie plays into every negative stereotype some Americans have of foreign countries. It's not as bad as, say, No Escape, but it's still pretty bad. I think that definitely held the film back as well, I mean they don't really explore any of the characters. I mean, then again, if they did then this movie would have been over two hours long. This movie is better served being 88 minutes long, since it never overstays its welcome. Do they leave you wanting more? I don't know, not really, since everything is resolved very neatly. You don't want more because everything comes to a satisfying enough conclusion. I don't really have much else to say about this movie. The flaws are apparent, but the film moves at such a pace that you never really notice them and the movie, in spite of these flaws, is exciting and never boring to watch. As far as a B-level thriller, I think this works perfectly fine. I wouldn't recommend it, but it's a decent enough watch and it never stays too long at the party.

The premise was unique and interesting but it didn't work out in the end.

This was one of those movies where each time the story restarted and was shown from a different "vantage point" you were thinking, oh this is going to get good or oh this is going somewhere, but at the end I was disappointed. I can't put my finger on exactly why, but it just didn't do it for me.

An interesting cinematic idea saddled with a typical script yet lightened by a good cast. The President, fighting terrorism, is under threat by some clever radical elements yet protected by a do or die Secret Service man ... wonder how it turns out?
See Details