Veer-Zaara
(2004)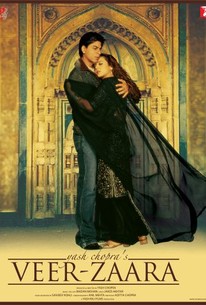 Movie Info
A star-crossed love affair has political as well as emotional repercussions in this Bollywood romantic drama. Veer Pratap Singh (Shah Rukh Khan) is an officer and pilot in the Indian Air Force who one day meets a beautiful Pakistani heiress, Zaara Hayaat Khan (Preity Zinta), as she travels to a small Indian village to scatter the ashes of one of her family's loyal servants. Veer has family in the village, and while most Indians show no affection for Pakistanis, his aunt and uncle are willing to take Zaara in for the night. It isn't long before Veer finds himself falling for her; however, Veer learns that Zaara is engaged to another man, Raza (Manoj Bajpai), a cruel and humorless Pakistani. A friend of Zaara contacts Veer and tells him that Zaara wants out of her engagement and has strong feelings for him, but when he comes to her rescue, matters take a turn for the worse and Veer winds up in jail. Twenty years later, Veer is still behind bars, and finds that his case is being given a new trial, but while he has a new chance at freedom, he discovers his lawyer will be going up against a state attorney who has never lost a case. Veer-Zaara was one of the first Indian blockbusters to open in India, the United States, and the United Kingdom at the same time.
Critic Reviews for Veer-Zaara
Audience Reviews for Veer-Zaara
½
3 hours of epic awesomeness... Veer-Zaara is a fun, tear-jerking, romantic musical with a powerful message of doing what is right and honorable, true love conquering all, the truth that sets you free, and the equality of all men and women no matter what race or religion. I enjoyed this tremendously. It was heart-pounding at times and so well-acted and directed.
Dannielle Albert
Super Reviewer
½
This movie was cute and sad, I was surprised how much I really liked it.
Marion Ravenwood
Super Reviewer
An excellent love story! Yash Chopra is a great director. Fascinating story plot. Preity Zinta, Rani Mukherjee, Shahrukh Khan, and Amitabh Bachchan are all phenomenal in this. Great music!
Veer-Zaara Quotes
There are no approved quotes yet for this movie.