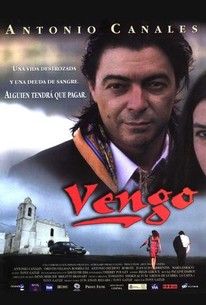 Vengo
2000, Musical/Drama, 1h 27m
37 Reviews
1,000+ Ratings
Rate And Review
Movie Info
Vengo is a majestic ode to the artistry and magic of flamenco dancing, set against the compelling backdrop of two gypsy families locked in an age old struggle for power. Set upon the dusty plains of Spain, a proud Clan leader, Caco, played by famed flamenco dancer Antonio Canales, must fight to end the bloody feud that's been raging between his family and the rival Caravacas clan for generations.
Audience Reviews for Vengo
No real story here, just a vehicle for presenting some of the many styles of Andalusian music and dancing amidst the spare scenery of the region in southern Spain. It may not be the most beautiful sounding music, especially when the singers are wailing away, but the passion is unmatched. Flamenco music is born out of grief and persecution, and this film, if nothing else, gives form and voice to that heritage. The Arabic, or Moorish, influence is clearly evident in the film, and in the music. There are some lovely women on view here, but the real star of the film is the music. What story there is revolves around a feud between two mafia-like families and the ramping up of tensions between the clans, building to a self-sacrificial ending that seemed a little contrived. For all of its faults, the film still managed to captivate the viewer.

This is not a musical but a movie about music, while displaying the great music of Andalucia, telling a story of a blood feud between two families. Tony Gatlif is doing what he does best, a good mixture of drama and music in a documentary style. Recommmeded to everyone who is interested in music, especially to the ones who love flamenco.
See Details