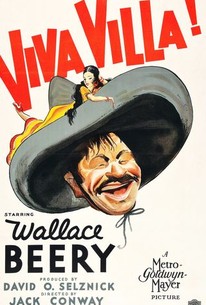 Viva Villa!
1934, History/Drama, 1h 55m
10 Reviews
250+ Ratings
Rate And Review
Movie Info
After an overseer beats his peon father to death, a young Pancho Villa spills his first blood when he enacts revenge on the man. Retreating to the hills, Villa (Wallace Beery) spends a number of years as a vicious bandit, brutally attacking the wealthy, which earns him the respect of the poor. When revolutionary Don Felipe de Castillo (Donald Cook) realizes he can utilize Villa's bloodlust, he brings the bandit to the revolutionary leader Francisco Madero (Henry B. Walthall).
Audience Reviews for Viva Villa!
Wallace Beery plays Villa as a stereotype which takes away from the role that Pancho Villa played in the history of Mexico and frankly makes them all a bit ignorant for following him. We need a more accurate portrayal.