The Waiting City
(2010)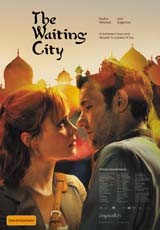 The Waiting City Trailers & Photos
Movie Info
A couple eager to adopt a child find their relationship might not last long enough for them to get their new daughter in this drama from writer and director Claire McCarthy. Fiona (Radha Mitchell) and Ben (Joel Edgerton) are a couple from Australia -- she's a successful, self-starting lawyer while he's a relaxed, easy-going musician. Fiona and Ben want to adopt a child, and have traveled to India for what they imagine will be a quick and simple process. However, once they arrive in Calcutta they learn that little happens quickly in India, and for all the promises that has been made, completing the final stages of the adoption process is more complicated than they ever imagined. While Fiona stays in touch with her clients at home via the internet and deals with the legal red tape that's slowing down the adoption, Ben finds himself wandering the streets of Calcutta and adjusting to the rhythms of the city. The stress of the waiting period seems to reinforce the differences between Fiona and Ben, and tension begins to grow into anger and resentment; adding to Ben's dissatisfaction is his budding friendship with Scarlett (Isabel Lucas), an attractive fellow visitor who seems more compatible with his attitudes than his wife. The Waiting City was an official selection at the 2009 Toronto International Film Festival. ~ Mark Deming, Rovi
more
News & Interviews for The Waiting City
Critic Reviews for The Waiting City
Audience Reviews for The Waiting City
"You must act out of love, not desperation or need."

I've yet to see a movie set in India that wasn't a visual treat to watch, and The Waiting City definitely earns it's place on that list. The story, about an Australian couple come to Kolkata to adopt a child in the hopes that it will fix their strained relationship, is also interesting, even though I thought it stumbled into predictable, melodramatic territory at times. This is sort of an emotional coming of age story for the two main characters, both as individuals and a couple. The transition from who they are at the beginning to who they are at the end isn't exactly handled in the most organic way, but it is mostly believable.

The movie dabbles in ideas about faith and spirituality, as well, but in a very unfocused way.

I recommend The Waiting City to those interested in India, fans of Radha Mitchell or Joel Edgerton, and movie fans comfortable with subdued, personal storytelling that takes its time to get where it's going.
Upon arriving in Calcutta from their native Australia, Ben(Joel Edgerton), a musician, and Fiona Simmons(Radha Mitchell), a lawyer, are dismayed to find that her suitcase did not also make the journey. Happily, they find it a lot easier to find their driver, Krishna(Samrat Chakrabarti), and settle in for a wait at their upscale hotel. So before their appointment with their adoption case worker, Didi Chatterjee(Tanushree Shankar), Ben renews an acquaintance with Scarlett(Isabel Lucas), an old backpacking friend, while Fiona manages a case from afar.

On the surface, "The Waiting City" has more than its share of culture clash cliches. However, the movie nicely slows its story down to match the more leisurely rhythms of India which it does a very good of photographing. Fine performances and a darker and nuanced mood definitely work in the movie's favor. It should still be pointed out that having or adopting a baby is not a cure all for a floundering relationship, as it puts much too strain on the poor kid. In any case, it is hard to imagine Ben and Fiona ever having been at the same place in their lives.
Discussion Forum
Discuss The Waiting City on our Movie forum!
News & Features