Waiting for Forever
(2011)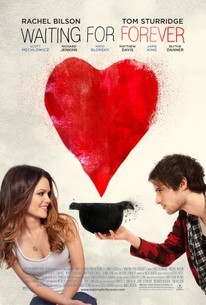 Waiting for Forever Photos
Movie Info
Who decides what is normal? A unique love story about friendship and a view of the world from different perspectives, WAITING FOR FOREVER explores the connections people make in the face of life's changes. Best friends while they were growing up, Emma (Rachel Bilson) and Will (Tom Sturridge) lost touch a long time ago-as far as she knows. To Will, Emma never stopped being the most important person in his life. Believing them to be forever linked, he goes wherever she goes. Will doesn't have a home, a car, or a "real" job. He survives on his talent as a juggler and entertainer-talents honed through years of showing off for Emma. When her father gets sick, Emma returns to their hometown, trying to leave behind her complicated love life and failing career as a TV actress. As its characters face love, death and their own preconceptions, -- (C) Freestyle Releasing
News & Interviews for Waiting for Forever
Critic Reviews for Waiting for Forever
Audience Reviews for Waiting for Forever
½
Well...it was sweet, and nicely done. The premise was a little silly. It was a nice attempt, though.
Cynthia S.
Super Reviewer
½
A Hollywood-set romantic tale of a guy who is content to live his life without a job yet with the love of his life, a young actress. Decent movie. I really really dislike the main character like he's actually in real life gonna get the girl of his dream, are you serious??? He has a crooked smile,wears pajamas all day outside of his house and talk's like a gay poet, I just think he sucks as an actor, uggh I don't know why I dislike him so much after this movie.On the other hand Rachel Bilson is very cute and not as bad of an actor This movie solely focuses on telling the story and making us like the characters for themselves. I think that is a rare statement made by films today. Nice ending but totally fictional and predictable. Who decides what is normal? A unique story of love, friendship and a view of the world from different perspectives, WAITING FOR FOREVER explores the connections people make in the face of life's changes. Best friends while they were growing up, Emma (Rachel Bilson) and Will (Tom Sturridge) lost touch a long time ago as far as she knows. To Will, Emma never stopped being the most important person in his life. Believing them to be forever linked, he goes wherever she goes. Will doesn't have a home, a car, or a real job. He survives on his talent as a juggler and entertainer talents honed through years of showing off for Emma. When her father gets sick, Emma returns to their hometown, trying to leave behind her complicated love life and failing career as a TV actress. As its characters face love, death and their own preconceptions, WAITING FOR FOREVER questions the realities of life.
Why Rachel Bilson agreed to this film, I will never know. Bordering on melodrama the entire film, there is no part of this film that feels natural. The relationships are forced and changes of heart are glazed over as if changing your negative emotions toward someone were easy. The flip-book style opening credits and accompanying heartfelt song were the best parts of the film, by far.
Christopher Haskell
Super Reviewer
Waiting for Forever Quotes
| | |
| --- | --- |
| Will: | I'm gonna tel her that I love her. That I've always loved her. That in my dreams, I breathe her in, I inhale her and I feel her right here. Here in the blood in my heart. |
| | |
| --- | --- |
| Will: | There's a moment in everybody's life when you're hopeless, just hopeless with hope and trust. And then something happens, something too big to understand, and then everything changes.. |
| Will: | There's a moment in everybody's life when you're hopeless, just hopeless with hope and trust. And then something happens, something too big to understand, and then everything changes. |
| | |
| --- | --- |
| Will: | Bad love letters beg for love back. Good love letters ask for nothing. |
| | |
| --- | --- |
| Will: | Truth is nothing. What you believe to be true is everything |
| Will: | Truth is nothing. What you believe to be true is everything. |