Walk, Don't Run
(1966)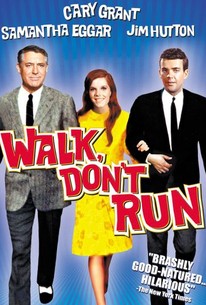 Movie Info
Cary Grant made his last film appearance before retiring from the screen in this agreeable piece of fluff based on the 1943 comedy The More the Merrier, which dealt with the romantic complications inherent in the housing shortage in Washington D.C. during World War II. In Walk, Don't Run, the story is updated to a housing shortage in Tokyo during the Olympic Games of 1964. British industrialist Sir William Rutland (Cary Grant) arrives in Tokyo two days before the start of the games and cannot find any suitable accommodations. As a result, he answers an ad for an "apartment to share" and convinces the occupant, Christine Easton (Samantha Eggar), to rent a room to him. The next day he meets the handsome Steve Davis (Jim Hutton), a member of the United States Olympic walking team. Steve also needs a room and convinces Christine to take him on as a second tenant. After meeting Christine's pompous fiancé, Julius D. Haversack (John Standing), Rutland begins to ply his matchmaking skills in an effort to get Christine and Steve to fall in love with each other.
Critic Reviews for Walk, Don't Run
Audience Reviews for Walk, Don't Run
Grant's last film ... and therein the reason to go there. And he's competent enough, given a few scenes wherein the old magic can shine, and by george, he's still got it. But the overall work, eh, not so much, a light and obvious love match-up interestingly set against the 1964 Toyko Olympic Games, with Grant as the matchmaker.
Kevin M. Williams
Super Reviewer
Grant's last movie! It's a remake of an older movie, which I liked better, actually, but this movie has a good cast and it's funny, so I liked it anyway.
½
It was just too much. Cary Grant does a nice job as usual but the characters are all blah and Samantha Eggar is just annoying. It was a lot of strung together silly moments without any real story.
Sunil Jawahir
Super Reviewer
Walk, Don't Run Quotes
There are no approved quotes yet for this movie.