War Photographer
(2001)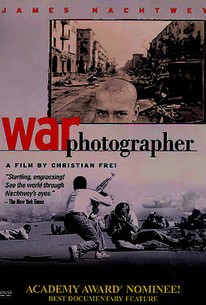 Movie Info
Christian Frei's documentary War Photographer follows acclaimed photojournalist James Nachtwey as he finds stories in some of the most desolate locations on the planet. The distinctive look of the film is achieved because Frei mounted a small camera on Nachtwey's camera. As the audience sees the world Nachtwey sees through his camera, a series of talking heads explain his bravery, greatness, and persistence. Slowly, the film reveals the emotional toll his work has taken on him. War Photographer was screened at the 2002 Cannes Film Festival. ~ Perry Seibert, Rovi
Critic Reviews for War Photographer
Audience Reviews for War Photographer
"War Photographer" is an intense, sometimes overwhelming, documentary about James Nachtwey, a noted photographer who specializes in conflict zones around the world. That alone makes his friends and colleagues(including Christiane Amanpour) very, very nervous about his well-being and he has been wounded on more than one occasion.(The documentary was made in 2001. According to Wikipedia, Nacthwey is still alive, thankfully.) They are also concerned with what in his personal life he may sacrificed in the name of his career. From all of what he has seen, including the view of the Brooklyn Bridge from his apartment and both the best and worst of humanity, and accomplished in bringing those images to the general public, it is safe to say that this is probably the life he wanted for himself since he started out in the wake of the Vietnam War when he noticed that photographs could tell the truth that the government did not want told.(More recently, the government has fought not to have the photographs of abused captives and caskets of returning soldiers released.) Along with photographing the results of atrocities in Kosovo and Rwanda, there is also footage of Nachtwey photographing a clash in the West Bank where he is tear gased and a sulfur mine in Indonesia. Kudos to the video cameraman on this footage, as there is also video footage shot directly from his camera to show exactly what is in his line of vision. That's not to mention the superb edit from one train in Indonesia to another in Hamburg, connecting the world. In a more general fashion, "War Photographer" is very insightful about the profession and dispels a good deal of the myths surrounding it. But it wrongfully scapegoats escapism as a reason why people do not care. We all need to escape occasionally from the real world(nobody needs reality television, however), just as long as that is balanced with some hard news. From a human rights point of view, the trick is to find a way to engage the average person in what is happening around the world on an everyday basis and these images might be the best way to do that.
War Photographer Quotes
There are no approved quotes yet for this movie.