We are Wizards
(2008)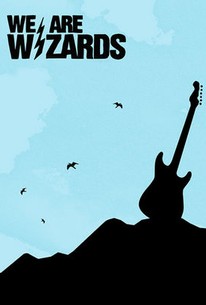 Movie Info
As the popularity of author J.K. Rowling's Harry Potter series expands to create a whole new breed of rabid fantasy fanatics, filmmaker Josh Koury explores the curious culture that has emerged around the most instantly recognizable young wizard in the history of youth fiction. ~ Jason Buchanan, Rovi
Critic Reviews for We are Wizards
Audience Reviews for We are Wizards
½
It shows me a world I didn't know existed - a whole music scene dedicated to Harry Potter emo rock - but doesn't compare with any prior documentaries on fandoms, and is actually quite boring. I really haven't more to say than that; this isn't Trekkies and don't expect to learn much for those sociology/communications/media students out there who need to do a fandom paper and want some references.
_kelly .King
Super Reviewer
I got bored and tuned out more than once while watching this flick. There were a few really good parts that dealt with issues fans had with Warner Bros over fan sites but then rest of the movie dragged on and really didn't have a direction. The music the bands played was not really all that good and only would appeal to those fans who have let the world of Harry Potter over shadow the real world they live in. Not something to be proud of. Slow documentary that I can recommend to anyone to watch.
Jason Spencer
Super Reviewer
We Are Wizards is an entertainingly enough documentary, but the filmmaker never really seems to decide on one message he wants to say about Harry Potter fans.
Andrew Fillmore
Super Reviewer
We are Wizards Quotes
There are no approved quotes yet for this movie.