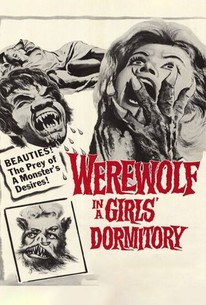 Werewolf in a Girls' Dormitory
1963, Horror, 1h 22m
1 Reviews
50+ Ratings
Rate And Review
Werewolf in a Girls' Dormitory Photos
Movie Info
Authorities scramble to locate the phantom behind a series of grisly murders at a detention school for girls.
Audience Reviews for Werewolf in a Girls' Dormitory
"Say what?!? Werewolf In A Girls School?! Italian, no less??? Hoo boy, there's gonna be lotsa females running around in varying stages of undress, yes?" That's what I thought, but I couldn't've been more wrong. The Italians dropped the ball of opportunity on this one. And its not even a real horror film. It's a "guess who the killer is" detective drama, only the killer has a bad make-up job on. Wooden acting. Wooden direction. Slow moving. Next!

Pretty average B-Grade Horror, from 1960's Italy. Not very entertaining at all really. Okay though, just thought more could have been done with the concept of Werewolf lose at a girls dormitory. Not nearly as sexy as you might think it should be, and a lot more boring. The identity of the werewolf did catch me off guard though so the movie gets some points for the surprise element, but in all honest when that came to light I didn't really care anymore. The werewolf genre is one that is very rarely done well, and this is no exception. Average for the genre and the period I guess, but not really worth seeking out.
See Details