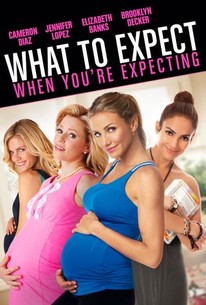 What to Expect When You're Expecting
2012, Comedy/Drama, 1h 50m
136 Reviews
100,000+ Ratings
What to know
critics consensus
The cast is stocked with likable performers, but What to Expect When You're Expecting is too disjointed -- and too reliant on stock rom-com cliches -- to live up to its distinguished literary namesake. Read critic reviews
Where to watch
Rent/buy
Rent/buy
Subscription
Rent/buy
Rate And Review
What to Expect When You're Expecting Photos
Movie Info
Challenges of impending parenthood turn the lives of five couples upside down. Two celebrities are unprepared for the surprise demands of pregnancy; hormones wreak havoc on a baby-crazy author, while her husband tries not to be outdone by his father, who's expecting twins with his young trophy wife; a photographer's husband isn't sure about his wife's adoption plans; a one-time hook-up results in a surprise pregnancy for rival food-truck owners.
News & Interviews for What to Expect When You're Expecting
Audience Reviews for What to Expect When You're Expecting
Really quite moving and entertaining with lots of disparate stories about parenthood from adoption, to miscarriage, to a difficult and unglamorous pregnancy. The ensemble cast is like a "Pitch Perfect" meets HIMYM guest stars reunion, and they're all en pointe: Anna Kendrick and Chace Crawford bust each others' balls, Elizabeth Banks and Ben Falcone are dorky and supportive of each other, and JLo is impressively maternal. I also love the backdrops of several subcultures such as reality television fanatics, food truck rivals, and of course, the gangsta dad group.

This isn't really that bad of a movie, it's a slightly below average movie. It's inoffensive and it's clear this was meant as something to be silly and light for those involved. Does it always succeed? Not really, in fact it really misses more than it hits with its humor, but the movie most definitely benefits from a likable cast that has some small moments of hilarity, coming from Rebel Wilson and Thomas Lennon. The problem is, and this is a big problem, why is the cast so large. This isn't that long of a movie for the amount of people that are actually featured. And that's not counting the multiple couples, some that are expecting and others that are adopting and one where a miscarriage breaks up a couple. There's also this group of fathers and how they're helping Holly's husband how to deal with being a dad and their little plot. And they're all lazily connected together by the fact that, at the end, they're all sharing the same hospital (other than Holly and her husband who are in Ethiopia), because I'm sure that there's only ONE hospital in the entirety of Atlanta. For the most part, with a few exceptions where the stories overlap, they're all pretty much kept away from each other. Which begs the question why even bother with so many characters and their individual subplots. And I'm sorry to say this because I love Anna Kendrick, but her little story with the guy was completely useless in the grand scheme of things. I realize that sounds cold considering that Anna's story deals with her miscarriage, but the execution of it is what makes it useless. They just throw a couple of scenes here and there whenever they need a buffer between the more important characters and their stories. Not to mention the fact that with something as serious as miscarriage, it just seems like the writers were creating unnecessary drama. Something as serious as this deserves its own movie, not just haphazardly throw together in the middle of what is a light romantic comedy. You could've cut out her entire character and the movie would've been paced better. With that said, I still think Anna was good in the role. It's not her fault that her story was poorly written. If there's a benefit to having so many characters and so many stories going on is that it feels like the movie moves at a faster pace, since they don't spend a lot of time focusing on just one character. That was a positive. At the same time, this also makes the individual stories themselves one-dimensional and lacking the depth necessary to tell an effective story about a group of pregnant women and their struggles. Though this film wasn't designed as such, so this is probably an unfair criticism of the film. I did think that the movie did a good job at, in the end when everyone's giving birth, sort of making the whole experience feel like a beautiful thing. Especially Holly's story, because hers is the one with the most depth, if you can call it that, because she's the only one that cannot, biologically, have kids. Not that they do much with this, other than one argument Holly has with her husband where she acknowledges her "bad eggs", as she says. But it's still cool seeing her reaction to finally getting the baby she so badly wanted to adopt, it was actually really sweet all things considered. So the last 15 minutes or so of the movie, with everyone in the same hospital, which I found madly stupid, were pretty cool and effective even if the rest of the movie wasn't. Even with a solid cast, the script isn't really that funny and is chock full of cliches, none of the stories are really all that interesting because there are simply so many that you don't even scratch the surface of what could be done. I just wish it would've been funnier considering the talents of some, not all, the people involved. If you're going to make a comedy about pregnant women, at least go all out you know? This movie is just content to play it safe, and that's fine for the target audience. I found this to be perfectly watchable, even if I only thought it was a below average movie at best.

Wasn't honestly as bad as I expected it to be. There were some parts that I thought were really cheesy, but overall I thought it was funny and the characters were likable and relate-able. I also liked that all the stories were interconnected. I thought it made it flow better. If you're just looking for a fun, light breezy movie to watch on a rainy day then this perfect.

The other half made me watch this after making her watch the Trollhunter and I didn't think it was half bad, The humour mostly comes from Chris Rock and his gang of dads that are really funny, But they were underused, Apart from that and its very strong cast it's a below par comedy that we have seen before.
See Details