WhirlyGirl
(2004)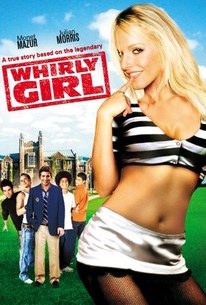 AUDIENCE SCORE
Critic Consensus: No consensus yet.
Movie Info
A studious prep school student finds just what a thrill it can be to ditch your inhibitions and follow your instincts in director Jim Wilson's nocturnally-charged tale of youth and irresponsibility. James (Julian Morris) may prefer a more structured approach to life, but upon meeting the enigmatic Whirlygirl (Monet Mazur) he throws caution to the wind and determines to prove he's still got a wild streak by following her on a wild ride through the streets of New York City. With the lights of the city's hottest nightclubs blazing overhead, the police on his trail, and the lessons of the classroom a dull and distant memory, James is finally about to find out what living is really all about.
Critic Reviews for WhirlyGirl
There are no critic reviews yet for WhirlyGirl. Keep checking Rotten Tomatoes for updates!
Audience Reviews for WhirlyGirl
[font=Book Antiqua]A kinda amateurish debut by Jim Wilson...but I actually don't blame him for this movie's failure...not all by himself. The writing is BUTT, the cast is OKAY (with the expection of [/font][url="http://www.imdb.com/name/nm0291881/"][font=Book Antiqua][color=#003399]Daniel Franzese[/color][/font][/url][font=Book Antiqua]) And the plot is :rotten: ....well the script prolly should have been used as a TV episode for Saved By The Bell, rather than a 5 million dollar movie. Lastly, what's up with the R rating... Nudity and Language?! Give me a F'ing break, this is a "titty-less" movie...ABOUT A STRIPPER. [/font] [font=Book Antiqua][/font] [font=Book Antiqua]F' it, I'm done[/font] [font=Book Antiqua]Final Judgement: 2 out of 10 :o [/font] [font=Book Antiqua][/font] [font=Book Antiqua]- The Hater[/font] [font=Book Antiqua][/font] [font=Book Antiqua][/font]
Chris Capital
Unappealing film, it just makes no sense, and you really don't care to ever figure it out. Poorly developed characters, also characters you don't care about. Stupid.
James Higgins
A young British kid attending a prep school located somewhere in the northeast falls for a leggy exotic dancer after she kisses him at a sausagefest and steals his watch. She lives in a dump in Bushwick or Queens, and he finds her by bribing a taxi driver named Spider 14 dollars and some change to take him to her place. The kid breaks into the dancer's home, goes through her junk bags, looks at her baby pictures and finds his watch. She comes home, they flirt, have dinner, then have feather exploding, cross-dressing pillow-fight-foreplay before making sweet love. The next day the dancer's sugar daddy comes by and begs her for sex-on-the-regular--all expenses paid, even though it's obvious she just had sex with the British kid. She pitches a fit, tells sugar daddy to get lost; tells British kid to get lost, so he steals one of her baby pictures, goes back to prep school to whine about how he misses having sex with the dancer. He eventually takes the picture back to her, and spies on her doing synchronized exotic dancing to classical music through a dirty warehouse window with two back-up exotic dancers. She catches him and instead of telling him to go away for being a dirty (broke, young, gullible) stalker, decides they're dating and dyes his hair blue. He then takes her to visit her mom dying of cancer in the hospital, and saves her from getting gang raped at a frat party after she gets really drunk; this is before getting pushed out of a window onto a car by one of the dancer's military boyfriends who can't spell. When the kid almost gets kicked out of prep school because of his crazy party lifestyle, the dancer shows up tells everyone that she's a con artist, tells them it's impossible not to stare at her ass, and threatens to expose one of the school's alumni as her very married sugar daddy. In the end, hours after the kid jumps into a pond to celebrate the fact that he didn't get kicked out of school, he gives the dancer back the watch (she stole and he got back after breaking into her apartment) after she buys a crappy car and decides to go on a road trip.
Sabra Embury
WhirlyGirl Quotes
There are no approved quotes yet for this movie.
Discussion Forum
Discuss WhirlyGirl on our Movie forum!