The White Stripes Under Great White Northern Lights
(2010)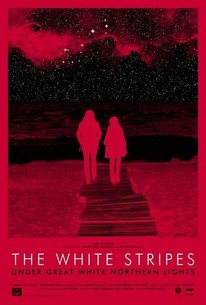 The White Stripes Under Great White Northern Lights Photos
Movie Info
Ever since the Detroit-bred duo the White Stripes rose to fame on the strength of their 2001 album White Blood Cells, they've tirelessly toured the world, and in 2007, when the group hit the road in support of the album Icky Thump, leader Jack White decided their previous tours had shortchanged the nation of Canada and they should do something about it. The White Stripes set up an ambitious Canadian tour that found them visiting every province and territory in the nation, and White and drummer Meg White also set up a number of surprise appearances along the way, ranging from an impromptu acoustic show on a city bus to a few tunes at a community center for Innuit elders. Filmmaker Emmett Malloy followed the White Stripes as they made their way across Canada, and The White Stripes: Under Great White Northern Lights offers a look at the band on and off stage, with Jack dominating the conversation and Meg letting her drums do most of her talking. The White Stripes: Under Great White Northern Lights was an official selection at the 2009 Toronto International Film Festival. ~ Mark Deming, Rovi
Critic Reviews for The White Stripes Under Great White Northern Lights
Audience Reviews for The White Stripes Under Great White Northern Lights
A close, intimate look at one of the best bands ever, The White Stripes, and their tour across Canada and the various locations they play and people they meet. This film is mainly a montage of their concert performances across the country, but the real special moments of the film often take place when Meg and Jack are in a room alone, with Jack musing about various things while Meg quietly, politely listens on. If anything, this movie shows a tender love story and a band taking a step back from its massive success and fame to go back and perform at random clubs and meet their true, die-hard fans in a very personal setting. It really is a shame they are no longer together, because the touching conclusion of this film showed the promise and deep connection these two artists had with each other.
Dan Schultz
Super Reviewer
½
*** out of **** In the summer of 2007, Jack and Meg White of "The White Stripes" finally jumped the border and made way across Canada to spread the message of their music to the people of that country. They performed live in front of many people, on many stages, and for the first time; I believe the twosome was truly able to prove the common fact that they are just a few of the business's modern saviors. Their live concert exploits were recorded; eventually becoming "Under Great White Northern Lights", both a live album (the first for the band) and a musical documentary feature, directed by Emmett Malloy. I suppose there isn't much to gain from watching the documentary if you aren't already a fan of the band; so if you find yourself curious by the end of this review, do yourself a favor and drag your lazy ass over to Youtube, iTunes, or wherever the hell you listen to music - and give all six studio albums a go. "Under Great White Northern Lights" can be enjoyed, as an album, both before and after you've seen Malloy's documentations. With that out of the way, I can finally get to dissecting the how's and why's of "Under Great White Northern Lights"; of which there are certainly more of the latter than of the former. Malloy documents the tour; with footage ranging from on-stage performances to back-stage and sometimes just plain off-stage afterthoughts. In my opinion, he does a good job at giving the band's fan-base a lot to talk about as well as a lot to like; this is a must-see for The White Stripes faithful. Like any good musical documentary, it takes you through many different, complicated emotions that arise when the lights simmer down and the show is back on the road; and also, it never quite tells you whether it's exploiting the complete truth or not. Nevertheless, if you're looking for insight; it's a 50/50 deal. The lights turn on. The bagpipes begin. Jack and Meg White make their way onto the stage. Jack picks up Rita, his trusty guitar; with Meg tending to her drum set. The bagpipes are interrupted by the explosive power of the band's loud, boastful, epic tune "Let's Shake Hands"; which is a perfect way to open the gates to the rest of the show, if you ask me. With that, "Under Great White Northern Whites" has begun; and when the first song has finished, the road ahead still awaits. Thanks to Malloy's passion and understanding for both sides of this dynamic musical duet; this "road" is an interesting one. He takes us on the tour, and soon it becomes something more like a journey. We are in the car with these two legendary modern artists; we are there in the crowd. Perhaps it's just my Surround Sound speaker system working its magic on my poor little brain; but the experience alone is enough to warrant this film a solid recommendation. It's a documentary of epic, broad scale. While I enjoyed the music, the mutual appreciation that I share with the fans for these people, and the tour itself; the best moments are sprung from the human, delicate discussions shared between Jack, Meg, and the cameraman. This film is at its best when it's exploring the relationship shared between the now-divorced duo. It isn't a flawless study of that bond; but I expect it's the best you can possibly get out of either band member. It makes for good conversation and thought; and that's good enough for me. In the end, it's the starting beauty - such as the concluding scene in which Jack plays "White Moon" on the piano for Meg; an act which moves her to tears - of "Under Great White Northern Lights" that brings it to a certain - if not limited - level of utter success. Like I said, this one is definitely for the fans and not for the unassociated; but hey, it's never too late to start, is it? And if you've given the band a try and didn't like them, then don't bring your gross cynicism into the film; because it's essentially pointless to see a documentary all about a band that you don't particularly like, especially if you really, really don't. But most of the world, when it comes to The White Stripes", does enjoy a good fling with these two successful rockers of both the music business and the existing world; so "Under Great White Northern Lights" is not a difficult film to recommend. It opens not with a whimper, but with a bang; and I suppose that it ends on a similar note, although with more discreet mannerism.
Ryan Marshall
Super Reviewer
½
"UNDER GREAT WHITE NORTHERN LIGHTS" is one of the best musical documents I've ever seen, and stand comfortably among the likes of GIMME SHELTER and THE LAST WALTZ. The White Stripes (well, Jack mostly) have an unmistakable raw energy when it come to their live shows, and this docu-concert displays it perfectly (across their most innovative tour). If your a fan of THE WHITE STRIPES, Jack White, or garage rock (like I am), this film is a must see. Everyone else should still check it out because they just might be converted!
The White Stripes Under Great White Northern Lights Quotes
There are no approved quotes yet for this movie.