White Water Summer
(1987)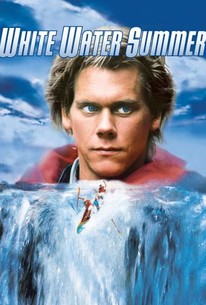 White Water Summer Photos
Movie Info
Also released under the title The Rites of Summer, this film follows the adventures of pampered city boy Alan Block (Sean Astin) when his parents ship him off to a wilderness camp. Once there, Alan and the other three campers must attempt to live up to the tough expectations of their guide, Vic (Kevin Bacon), who is determined to push the kids as far as he can--and maybe farther.
Critic Reviews for White Water Summer
All Critics (7) | Fresh (2) | Rotten (5) | DVD (2)
...an innocuous drama revolving around the exploits of several campers and their seemingly amiable guide...
Bacon is the perfect nasty...thrills aplenty
April 27, 2003 | Rating: 3/5
Most stunning is how abruptly the film ends, but I suppose that's to be expected when a production simply runs out of money.
Audience Reviews for White Water Summer
Filmed in 1985, and dumped into a handful of theaters 2 years later, grossing less that one million dollars at the box office, this is probably the least known Kevin Bacon movie ever. Bacon plays a driven outdoorsman who takes groups of young men up into the mountains to learn how to survive. He also happens to be a boderline sociopath. When one kid, played by Sean Astin, continually challenges Bacon's leadership, things take a dangerous, even violent turn. A strong support cast of young actors makes for believable characters that involve you in the story. There's also tremendous cinematography of the wilderness and mountainsides. A lively, if very dated, 80's soundtrack keeps things moving, and keep the goings on from becoming TOO heavy handed. Bacon gives a strong performance, but it's also the weak link in the chain, because we never really know if his character is trying to teach the boys to survive on their own wits...or flat out insane. But for anyone who is a fan of the outdoors, the visuals are more than enough to sustain you for the ride.
RJ MacReady
Super Reviewer
A great film, especially with Bacon playing a bad person. Hehehe
White Water Summer Quotes
There are no approved quotes yet for this movie.